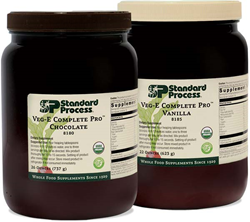 PALMYRA, Wis. (PRWEB) July 12, 2017
Veg-E Complete Pro™ Chocolate and Veg-E Complete Pro™ Vanilla protein powders are the newest products to join the Standard Process selection of shake products. The plant-based Veg-E Complete Pro™ blend combines organic peas, pumpkin seeds and sesame seeds in a complete vegan protein.
One serving of powder provides 15 grams of protein and makes a convenient shake when mixed with water.*
"This is a vegan complete protein, which is unique in the protein shake market," said Tammi Geiger, director of marketing at Standard Process. "We conducted extensive research in order to include all nine essential amino acids in a delicious and organic shake."
Proteins are made up of molecules called amino acids. A complete protein supplies all nine essential amino acids in the recommended amounts. (Institute of Medicine 2005) Veg-E Complete Pro products contain branched-chain amino acids that are linked to muscle-building effects in humans. (Blomstrand 2006, Marangon 2010) The body also uses protein for cellular function; enzyme action; increased energy levels; gut health; and support of healthy hair, skin and nails.*
Valuable Protein for Patients
The human body cannot create essential amino acids, so they must be consumed through the diet. Veg-E Complete Pro products are a significant source of supplemental protein that may be beneficial for:

Aging adults: As people age, the loss of muscle can negatively affect length and quality of life. Protein supplementation may support the preservation and development of muscle mass. (Wolfe, R. R. 2006)
Athletes: When athletes exercise or put stress on the body, they may utilize more protein to recover and heal. This may cause muscle depletion in some cases. (Wolfe, R. R. 2006) It is recommended that athletes, including endurance athletes and those who train with weights, consume extra protein for muscle building and recovery. (Campbell 2007)
Weight and glucose management: Protein may help patients who want to support healthy weight and glucose management with a lower-calorie diet feel full longer, as well as preserve lean muscle mass while dieting.* (Layman 2003)
Veg-E Complete Pro products may be beneficial for any patients who want to add more protein to their diet. Both flavors are available exclusively through health care professionals. Veg-E Pro products are free of dairy, gluten, grain, soy, genetically engineered ingredients, artificial sweeteners and artificial flavors. The natural flavors are made without monosodium glutamate (MSG). For more information, visit http://www.standardprocess.com/veg-e.
About Standard Process Inc.
Standard Process is the visionary leader in whole food nutrient solutions. Based in Palmyra, Wisconsin, Standard Process offers more than 300 high-quality supplements made with whole food and other ingredients through three product lines:

Standard Process®
Standard Process Veterinary FormulasTM
MediHerb® herbal supplements
The products are available exclusively through health care professionals, including chiropractors, acupuncturists, nurses, naturopaths, medical doctors and veterinarians.
Standard Process is guided by the whole food philosophy of its founder, Dr. Royal Lee. Dr. Lee's goal was to provide nutrients as they are found in nature, where he believed their natural potency and efficacy would be realized. Today Standard Process proudly carries on Dr. Lee's legacy and regularly grows more than 80 percent of the raw plant ingredients found in its products on its certified organic farm in Palmyra, Wisconsin. Using state-of-the-art manufacturing processes to retain vital nutrients within each ingredient, Standard Process manufactures its supplements in its certified organic manufacturing facility. Standard Process employs high quality control standards and follows the Food and Drug Administration's good manufacturing practices.
In the 1940s, Dr. Royal Lee marketed the first household flour mill under the Lee Engineering brand. The Lee Household Flour MillTM has been redesigned and is now offered along with other nutrition-focused products under the Standard Process subsidiary Royal Lee Organics™.
Standard Process employs more than 380 people and has been in business since 1929. The company is recognized as a distinguished leader and innovator in workplace wellness and an exemplary environmental steward. It is a recipient of the Platinum Well Workplace Award from the Wellness Councils of America and a Tier 1 participant in the Wisconsin Department of Natural Resources Green Tier program, which recognizes companies with strong environmental compliance records. For additional information about Standard Process, visit standardprocess.com.
*These statements have not been evaluated by the Food and Drug Administration. These products are not intended to diagnose, treat, cure, or prevent any disease.
###