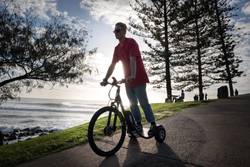 QUEENSLAND, Australia (PRWEB) July 12, 2017
An Australian startup recently introduced their new electric trike on Kickstarter. The DC-Tri Commuter is a trike that allows riders to commute for both recreational and commuter purposes. The trike's unique design provides riders with a low center of gravity making DC-Tri exceptionally safe and essentially untippable. The standup electric trike also offers riders two optional rear tire sleeves allowing DC-Tri the ability to drift. The team launched DC-Tri on Kickstarter today with a $50K funding goal.
Unlike a bicycle, there is no requirement for riders to have great balance. This makes the trike appealing to a wide range of people, including young adults and an even older, commuting demographic. The trike, which safely accommodates riders up to 260 pounds, also reduces pain associated with long distance bike riding including wrist strain, back pain and seat pain, making the experience much more enjoyable. Now, riders can travel long distances, far more safely and with much more control than a traditional push trike and/or scooter.
To operate the trike, riders simply step on the floor platform, turn on the battery via the controller on the left hand grip and then press the throttle located on the right grip. Using the LCD screen, users can monitor distance, speed, travel duration and more. There's even a USB port for charging devices. The trike's mode controller offers five different speeds, allowing users to maximize their speed limits. To slow down, riders simply squeeze the Tektro disc brake located on the left grip. Additionally, riders can adjust the trike's shocks, based on terrain, or these can simply be locked.
The trike can travel up to 15 MPH for up to 20-30 miles, dependent on use, and features a battery that can be recharged with its accompanying charger and through any standard power outlet. Riders can opt to self-propel or use the electric motor to ride the trike. Self-propelling allows the trike to be ridden like a scooter. The trike, which is made with high-quality bicycle components, offers a unique design and fits through virtually any standard door, lift, etc. Plus, its size and width are also compatible for use on sidewalks, footpaths and walkways. Perhaps the most impressive feature is the trike's zero turning radius and exceptional maneuverability.
Additionally, the trike's optional tire sleeves and ability to 'drift' and do tricks makes it attractive to a younger market. The fact that it provides a stable alternative to a traditional bike makes it an attractive transportation method for those who find bike riding difficult.
The DC-Tri team launched their new trike on Kickstarter today with hopes to raise $50K. The first backers can take advantage of early bird deals starting at just $1,533.00.
A successful campaign on Kickstarter will allow DC-Tri to go into large-scale production and complete its initial manufacturing order. It will also allow the company to continue the development of its patented wheelchair assist trike, which will allow wheelchair users unbelievable freedom and accessibility.
During the Kickstarter campaign, DC-Tri will be donating a number of wheelchair assist trikes globally. For more information on DC-Tri, or to back the project, visit bit.ly/DCTriKS.
About DC-Tri
Based in Australia, DC-Tri is a startup that specializes in innovation and in electric trikes. The team recently introduced their DC-Tri Commuter trike on Kickstarter. With its unique design, DC-Tri is environmentally friendly, user-friendly, safe and durable. For more information on DC-Tri, visit http://www.dc-tri.com.