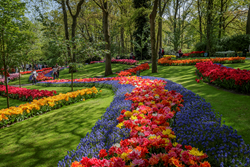 Fall Planting for Spring Pleasure
West Chester, Penn. (PRWEB) July 18, 2017
DutchGrown (http://www.dutchgrown.com), an exporter of high-quality flower bulbs, has provided customers a new way to purchase healthy, fresh bulbs in a timely and personalized manner. Founded in 1882, DutchGrown is one of the oldest and most respected wholesale flower bulb exporters in the Netherlands. They specialize in fall planted flower bulbs.
Now in the fourth generation of the family business, two brothers, Ben and Pete Rotteveel, pioneered the way for wholesale, bulk, and retail quantities of flower bulbs to be shipped directly from their family farm in Holland.
"Initially, only wholesale quantities were available for purchase online. But, in response to persistent requests from our customers, we soon figured out a way to offer our flower bulbs for sale in smaller quantities. The logistics of shipping our flower bulbs has progressed a lot since 2007! With the opening of our warehouse located in West Chester, PA, we are able to ship our bulbs from our farm in Holland to Pennsylvania. From this location, we ship out the orders to our valued customers across the U.S., ensuring fresh bulbs that are delivered at the right time for planting," says Ben Rotteveel.
DutchGrown distinguishes itself by offering more than 150 tulip varieties and more than 70 unique flower bulb collections. They import their flower bulbs from their own family farm and the best flower bulb growers in Holland.
Unlike traditional flower bulb seller websites, DutchGrown features a Gardening Community section, complete with The DutchGrown Blog. The blog provides readers Planting Tips, Bulb News, and Featured Varieties. Read owner Ben Rotteveel's blogs and his recent interview from The Gardener News Magazine.
Visitors to the website can sign up for the DutchGrown newsletter. Because they just launched their new website each subscriber is entered in a contest to win two roundtrip tickets to Amsterdam, plus two tickets to the world-famous Keukenhof Gardens.
For more information, please visit http://www.dutchgrown.com.
About DutchGrown
We are passionate about providing customers the highest quality flower bulbs combined with personalized and service-oriented expertise. As a small family company, we are intimately involved in each and every order and take pleasure in being able to offer personal service and the highest standards to all our customers.
CONTACT:
Ben Rotteveel
info(at)dutchgrown(dot)com
800-277-0215
Check us on Facebook: https://www.facebook.com/dutchgrown.flowerbulbs/