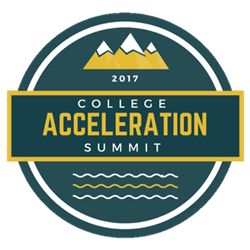 It can be difficult for college students to transition into their careers," Rogers said. "With the help of the folks of the College Acceleration Summit, we hope to change that
(PRWEB) July 13, 2017
Adult learners looking to accelerate their professional growth are signing up for the 2017 College Acceleration Summit, a virtual conference on on Aug. 8. This conference aims to help adults access the knowledge and skills they need for success in the working world.
The Summit features over 20 world-class education experts, including Military Warriors Support Foundation CEO Leroy Sisco and National Organization of Black Law Enforcement Executives President Perry Tarran, who will lead sessions that share insights, strategies, and tactics to give attendees a clear plan to advance their careers.
Those who attend sessions of the conference will be eligible to win one of three $500 scholarships. The more sessions they attend, the more chances they will have to win a scholarship.
"We're honored to play a part in this conference," College Acceleration Summit Organizer Shara Wright said. "The presenters bring a wealth of knowledge and expertise to the table, which will undoubtedly help those who sign up for the conference."
Those who are interested can go to collegeaccelerationsummit.com to sign up for the conference. The event is free to the general public, with a portion of proceeds from sponsorships supporting the Military Warrior Support Foundation and the Make-A-Wish® Foundation Of North Texas.
"It can be difficult for college students to transition into their careers," Wright said. "With the help of experts at the College Acceleration Summit, we hope to change that."
About The College Acceleration Summit
The College Acceleration Summit is an educational web conference designed to help adult learners have more success in the academic and professional world. This is the first annual Summit, with one for college students coming in February, and another for working adults in August. Learn more about the Summit at collegeaccelerationsummit.com or email shara(at)collegeaccelerationsummit(dot)com.
SpeedyPrep offers College-Level Examination Program® (CLEP) preparation materials to help college students save money, graduate faster, and learn more effectively. Find out more about SpeedyPrep at http://www.speedyprep.com.