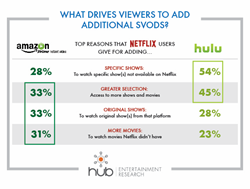 "The results clearly point to the importance of SVOD exclusives."
Boston, MA (PRWEB) July 17, 2017
Hub's annual "Decoding the Default" study demonstrates how strongly consumers have embraced the SVOD viewing model.

66% of viewers in the study subscribe to at least one of the "Big 3" SVOD services (Netflix, Amazon or Hulu), up from 62% in 2016
Having multiple SVOD subscriptions is quickly becoming the norm: 38% subscribe to 2 or more of the Big 3, up 12 points (26%) from last year
14% subscribe to all three SVODs, more than double the number in 2016 (6%)
Netflix whetted consumers' SVOD appetite
Among those with multiple SVODs, the great majority (75%) say that Netflix was the first SVOD they subscribed to. And Netflix remains at the center of viewers' SVOD universe, at least for now:
Only 6% of consumers have an Amazon or Hulu subscription without a Netflix subscription
The remaining 62% either subscribe to Netflix alone, or subscribe to Netflix with at least one of the others
What drives subscription to multiple SVODs? Access to exclusive content
The results clearly point to the importance of SVOD exclusives in consumers' subscription decisions. For example, for the majority of consumers whose first SVOD was Netflix, the top reasons for adding either Hulu or Amazon were the following:
Top reasons for adding Hulu to Netflix: To watch specific shows not available on Netflix (54%) and for greater selection of shows and movies generally (45%)
Top reasons for adding Amazon to Netflix: For greater selection (33%), for Amazon originals (33%), and for access to movies not on Netflix (31%).
"If anyone needed hard evidence that SVODs' investment in exclusive distribution deals is paying off, this research provides it," said Peter Fondulas from Hub, who co-authored the study. "The combination of high-quality, buzz-worthy shows only available from certain platforms, plus a reasonable monthly price point, makes the decision to add another SVOD relatively easy for many TV consumers."
"Netflix has given consumers a taste for deep catalogs of content", said Jon Giegengack, co-author at Hub. "Enthusiastic Netflix users are adopting Amazon and Hulu (among others) to get access to more shows, as well as exclusives and originals, for a low cost.   But their disposable time is about the same, and so online and traditional providers must compete even harder for share of mind."
About this Research 
"Decoding the Default" was conducted among 1,806 US consumers with broadband and who watch at least 5 hours of TV per week. The data was collected in June 2017. An infographic and excerpt of the report are available as a free download from Hub Entertainment Research.
About Hub Entertainment Research
Hub Entertainment Research is a market-research firm with deep expertise in television, movies, gaming, music, publishing, and sports: anywhere that entertainment and new technology overlap. In the television industry, Hub analysts work with MVPDs, networks, content creators, and digital distributors. Our job is to help our clients negotiate new risks, act upon emerging opportunities, and reveal the clearest paths to success in a changing marketplace. For more information, please visit us at http://www.hubresearchllc.com.