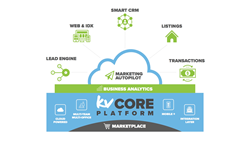 ...We firmly believe this platform will become the standard by which all other solutions are measured, and it'll become the must-have innovation in the real estate market.
(PRWEB) July 14, 2017
The real estate technology industry has been racing to build the first all-in-one real estate technology platform. Now, with the announcement of the kvCORE platform, Inside Real Estate may have just crossed the finish line.
During the inaugural product preview at their internal Customer Conference, Inside Real Estate CEO, Ned Stringham, wasn't afraid to call it as he saw it:
"This is the first truly comprehensive software platform that allows you to run your business from a single integrated solution. Not only at the agent and team level but also across multi-teams and multi-office brokerages…
...We firmly believe this platform will become the standard by which all other solutions are measured, and it'll become the must-have innovation in the real estate market."
As the chief architect behind the merger between Inside Real Estate and Kunversion, Stringham's vision of creating an all-in-one real estate technology "super platform" encompasses every stage of a real estate deal, from lead-gen to transaction management (and everything in between), has come to fruition.
We are all too familiar with the pains of lackluster real estate solutions. There are huge gaps in capability between platforms and most solutions are often unreliable, unconnected, and disjointed. Brokers today really have no choice but to try to put together a 'frankenstein system' of poorly integrated solutions for running their business.
As the industry continues to evolve, agents and brokers alike are looking for ways to dominate the competition and effectively scale their businesses. Unfortunately, most systems have been built for individual agents and teams, which can cause real problems when trying to scale to multiple teams.
From responses we've gotten so far, it is apparent the kvCORE platform disrupts the current industry offerings while revolutionizing the way technology and real estate communicate. One of the most powerful features of this next generation platform is the ability, within a single system, to manage agents, multiple teams, offices and regions. The scalability is unprecedented as the system is just as functional for a five man team as it is for a massive 5,000 agent brokerage.
Another roadblock in real estate tech is managing communication. Communicating with leads in exactly the way they prefer, and taking the right action at precisely the right time is essential in real estate. kvCORE replaces unnecessary manual communication with an automated Smart CRM that tracks customers, engages, and responds without the agent having to lift a finger. This allows agents to spend more time where they really shine, face-to-face with clients.
Finally, brokers often struggle with not having the ability to view, track, and optimize their business. Now with kvCORE brokers can track, manage and project ROI and marketing efforts based on the detailed business analytics within the system are automatically pulled and displayed for easy consumption and quick implementation.
Not only is the platform itself groundbreaking, the release is innovative as well. Instead of a flashy launch event, Inside Real Estate is revealed kvCORE during its inPower Digital Summit, a series of interactive product review webinars. This digital release demonstrates Inside Real Estate's commitment to training and collaboration as users get the opportunity to ask questions and provide feedback. The release of this platform is less about "pats on the back" and more about itsdedication to teaching the in's and out's of the platform so all users can launch off the starting line at lightspeed.
Even if you don't attend the Summit, the kvCORE Platform is ready for demoing now. Schedule your demo HERE and get a glimpse of what this truly intelligent, all-in-one solution could mean for your business.