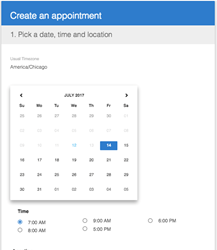 Clients expect to book with a lawyer online at their next availability.
Austin, TX (PRWEB) July 17, 2017
JustLegal, a platform connecting people with lawyers online, is also changing the way law firms book consultations with new clients via the web through a licensed scheduling service replacing the outdated "contact form."
Law firms and solo practices using JustLegal can share their calendar availability to schedule consultations at a time that works best for clients, and take payment for these and other meetings through their websites as well as be featured in the JustLegal.com lawyer directory.
"Many great law firms were not presenting a smooth or intuitive experience to prospects trying to contact them online," said Willy Ogorzaly, CEO of JustLegal. "Web visitors expect to be able to book with a specialist and their next availability, not send their case details into a void and wait to be called back. We built the JustLegal scheduling and intake solution to reduce scheduling friction, but also speed up qualification so that administrators spend less time assessing leads."
The innovative system works by syncing to the attorney's website and showing only when they are available for consults on their site. Visitors seeking advice or representation put their details into a secure form that goes straight to the lawyer, and if accepted, the solution sends both parties a calendar invite.
Software is rapidly changing the industry and improving efficiency and access for both clients and attorneys. JustLegal is just one unique example of this shift in legal technology.
ABOUT JUSTLEGAL
JustLegal is a web platform that enables clients to find attorneys, and attorneys to easily manage and fill their non-billable hours. Founded in Colorado in 2013, the platform has evolved to enable and simplify the process of finding professionals, while staying focused on the compliance, security, and privacy that are critical to the industry. JustLegal is now based in Austin, Texas as part of the Capital Factory accelerator program. For more information, go to https://justlegal.com/ or twitter.com/gojustlegal