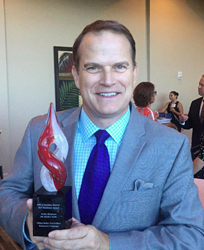 We were honored to have the opportunity to share FaceCradle's unique solution with travelers around the world via media coverage.
Tampa, Fla. (PRWEB) July 13, 2017
PRmediaNow has won the 2017 PRSA Radiance Award for 'Best Media Relations Tactics' from the Public Relations Society of America's Sunshine District.
PRmediaNow, which specializes in crowdfunding public relations helps companies around the world launch innovative products. The Radiance Award recognized PRmediaNow for securing valuable media coverage and viral social-media hits for the FaceCradle Travel Pillow Kickstarter campaign in late 2016.
The campaign focused on generating earned media coverage to drive traffic to the FaceCradle Kickstarter Page, where nearly 20-thousand 'backers' pre-ordered the travel pillow, raising a total of $1.1 million USD. It became the most-funded travel accessory in crowdfunding history, and thanks to that success, FaceCradle was able to transition into full-scale mass manufacturing and global distribution. FaceCradle is now sold online and at retailers around the world.
"FaceCradle is a fantastic product, that solves a problem we can all relate to – trying to get quality sleep in a cramped, vertical economy class airline seat," said PRmediaNow Principal Colin Trethewey. "We were honored to have the opportunity to share FaceCradle's unique solution with travelers around the world via media coverage. FaceCradle allows travelers to sleep with their head in a comfortable face-down massage-chair pillow position. I use it when traveling and I have never slept better on a flight."
The Radiance Awards recognize outstanding strategic public relations programs by Florida based practitioners and organizations. The awards highlight PR campaigns and tactics that demonstrate excellence in research, planning, implementation and evaluation, as well as individuals who have shown great commitment to the profession.
In 2016, PRmediaNow received the PRSA Prestige Award for 'Best Media Tactics' from the PRSA Tampa Bay Chapter for its BauBax Travel Jacket PR campaign. BauBax raised more than $9.19 million on Kickstarter to become the most-funded apparel item in crowdfunding history.
For more information about PRmediaNow and the services it provides to crowdfunding and non-crowdfunding clients, visit http://www.prmedianow.com.
About PRmediaNow
PRmediaNow, LLC is a full-service international public relations agency that focuses on securing media coverage for companies and their products. In 2015 PRmediaNow led the PR campaign for the record-breaking BauBax Travel Jacket Kickstarter campaign that raised $9.19 million USD, to become the 4th most-funded Kickstarter product at the time. PRmediaNow has since helped crowdfunding clients raise over $40-million. PRmediaNow prides itself on creativity, responsiveness and providing high-level customer service to clients, while delivering media-outreach campaigns that result in major mainstream media coverage and viral spread on social media and the Internet. For more information, please contact info(at)PRmediaNow(dot)com or visit http://www.PRmediaNow.com.