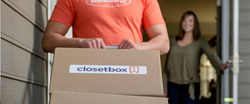 Closetbox has 150 locations, 3000+ vehicles on the road and 10 million square feet of storage space.
Denver, CO (PRWEB) July 17, 2017
Closetbox, the largest full-service storage company in the world, announced today that it is bringing the company's innovative valet storage services to Iowa with the recent launch of the Des Moines market. With the expansion, Closetbox now serves 75 markets in 36 states and Washington D.C, with international expansion in the works. Closetbox has 150 locations, 3000+ vehicles on the road and 10 million square feet of storage space. In contrast, Closetbox's largest competitor serves only 4 markets.
The Denver, Colorado-based startup has expanded quickly due to its unique business model that allows customers to store their belongings in a secure storage facility without leaving the comfort of their home. Professional movers pick up storage items at customers' doors free of charge and store them in a secure, climate-controlled facility, while creating a digital inventory for all the belongings being stored.
Closetbox is the only full-service storage company that has successfully implemented a distribution model using excess capacity in the existing logistics network to pick up, deliver and return storage. By profitably offering full-service storage at the cost of self storage, Closetbox is the only company to truly disrupt the self-storage industry.
"We are happy to report that our unique service has taken off across the country like wildfire," said Closetbox Founder and CEO Marcus J. Mollmann. "With our success, Closetbox's continued focus will be offering customers new and innovative ways to store their belongings without the hassle of traditional storage."
As Closetbox continues to expand, an experienced product and operations team is working to better serve customers by allowing customers, businesses and individuals incredible flexibility in how they manage their belongings at the same cost or lower than self storage. Next on tap is a new digital experience that should further cement Closetbox as the dominant force in the full-service storage industry.
For more information, visit: http://www.closetbox.com 
About Closetbox
Closetbox is a full-service storage company that offers free pickup and on-demand return delivery of customers' belongings with secure storage in local storage facilities. Founded in 2014 by Marcus Mollmann and headquartered in Denver, CO, the company is backed by venture capital and offers an efficient and cost effective solution to storage. Each customer has access to a personalized, online dashboard that includes an inventory of their belongings—allowing customers to request any or all items to be returned within a few days. Closetbox serves 75 markets across 36 states and Washington D.C. and will continue its market expansion through 2017. To learn more, visit http://www.closetbox.com.