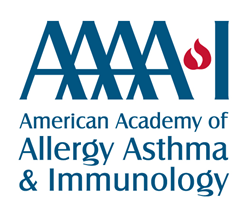 Milwaukee, WI (PRWEB) July 13, 2017
Asthma is one of the most common chronic diseases affecting pregnant women. In most cases, pregnant women should manage their disease though the use of medication in the same manner as women who are not pregnant. A recent study in The Journal of Allergy and Clinical Immunology, an official journal of the American Academy of Allergy, Asthma & Immunology (AAAAI), suggests that the level of control a mother has over her asthma may effect the risk of their child developing the disease at an early age.
In the article "Maternal asthma severity and control during pregnancy and risk of offspring asthma," researchers at Aarhus University in Denmark and Icahn School of Medicine at Mount Sinai in New York looked at data from 7,188 children born in Denmark to mothers with active asthma during their pregnancy. Mothers were categorized into four groups based on the severity of their asthma and whether or not it was controlled during their pregnancy.
They found that mothers who had mild uncontrolled asthma, moderate-to-severe controlled asthma, or moderate-to-severe uncontrolled asthma during pregnancy were more likely to have children with early-onset persistent asthma compared to mothers who had mild controlled asthma.
"Current knowledge on the association between the severity and control of maternal asthma and offspring asthma is sparse," said lead author Xiaoqin Liu, PhD. "Maternal uncontrolled asthma may influence offspring asthma through genetic risk and environmental exposures both in utero and during upbringing. Therefore, poor asthma control constitutes as a risk factor that potentially can be targeted in clinical practice and intervened upon."
The researchers cited separate studies reporting that 24% of women do not take prescribed antiasthmatics during pregnancy and the frequency of poor inhaler technique ranged from 41% to 54%. Because of this discrepancy, the authors suggest health professionals be alert and encourage proper medication usage.
"In-utero exposure to uncontrolled asthma is associated with an increased asthma risk of the child," said Liu. "This may suggest that maintaining asthma control during pregnancy is an area for possible prevention of asthma in future generations."
The American Academy of Allergy, Asthma & Immunology (AAAAI) represents allergists, asthma specialists, clinical immunologists, allied health professionals and others with a special interest in the research and treatment of allergic and immunologic diseases. Established in 1943, the AAAAI has more than 7,000 members in the United States, Canada and 72 other countries. The AAAAI's Find an Allergist/Immunologist service is a trusted resource to help you find a specialist close to home.