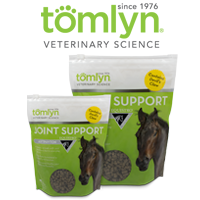 Tomlyn's new Equistro Artphyton is the first of our three, new health supplement items specifically for the horse industry
Fort Worth, TX (PRWEB) July 19, 2017
Tomlyn® (http://www.Tomlyn.com), a world-class developer of veterinarian-approved formulas for animal health, is further expanding its offerings to the horse care market with its new Equistro® Artphyton supplement to support equine joint health.
"Tomlyn's new Equistro Artphyton is the first of our three, new health supplement items specifically for the horse industry," says Tabitha Cromer, marketing manager at Tomlyn. "The new line is the result of listening to what our equine customers – owners and equine healthcare professionals – need for their horses' health care regimens."
The new Equistro® Artphyton supplement for horses is specifically formulated to support joint function and helps support healthy joint mobility and flexibility with safe, non-drug ingredients, such as devil's claw. This palatable and easy-to-use supplement contains Glucosamine, which helps maintain synovial fluid that lubricates joints and is ideal for animals with joint tenderness due to everyday activity.
"Equistro Artphyton can be used for periods of 10 days consecutively when a horse needs extra support. This can be repeated monthly as needed," explains Dr. Jim Lowe, resident veterinarian at Tomlyn. "It provides an alternative to pain medications without the risk of side effects."
New Tomlyn Equistro Artphyton is available in most major feed stores. EQUISTRO® has been a trusted brand of equine products available throughout Europe for more than 30 years and are used by the top riders in the world. To learn more, visit http://www.tomlyn.com.
About Tomlyn®:
Tomlyn®, an animal health and wellness company founded in 1976, carries a complete line of scientifically developed, veterinarian-approved animal health products. The company's wide selection of product categories range from immune support, vitamins, digestive support and hairball remedies, to joint and hip support, calming aids and sanitizers. Tomlyn has expanded into the equine and bovine industry most recently with the EPIC® line and now the addition of three new Equistro® equine health supplements. Tomlyn is owned by the eighth-largest veterinary pharmaceutical company in the world.