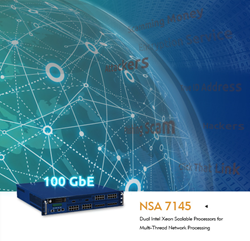 The growing scale and sophistication of network attacks have challenged the ability of network security appliances to protect.
Fremont, CA (PRWEB) July 18, 2017
NEXCOM's latest 2U network security appliance, NSA 7145, balances security and performance, keeping network traffic flowing securely and freely. Featuring Intel® Xeon® Scalable Processors, NSA 7145 boasts scalable performance with support for field-programmable gate array (FPGA), Intel® QuickAssist Technology for networking workload acceleration, flexible LAN configuration and high-speed 100 GbE connections. With NSA 7145, enterprises can implement sophisticated security control mechanisms to fend off surging network attacks.
"The growing scale and sophistication of network attacks have challenged the ability of network security appliances to protect. Network security appliances must preserve network integrity against breaches, ensure network availability for service delivery, and at the same time present the value for money. To achieve these goals, NEXCOM NSA 7145 has incorporated Intel® Xeon® Scalable Processors to offer dual-processor configuration, accelerated encryption, compression, and virtualization, and modular expansion with 100 GbE connectivity. Given the accelerating shift to network function virtualization (NFV), the NSA 7145 can also act as software defined infrastructure (SDI) for network security virtualization and other network applications," said Hadwin Liu, Chief Architect of NEXCOM Network and Communication Solutions Business Group.
The Intel® Xeon® Scalable Processor Family has the design flexibility to thrive across a wide range of applications. Architected for exceptional workload-optimized performance and hardware-enhanced security, the Intel® Xeon® Scalable Processor Family delivers increased performance, energy efficiency, security, manageability, and serviceability, enables rapid delivery of services for high performance computing, cloud, and enterprise segments, and offers new opportunities for telecommunication vendors.
To fortify enterprise networks, NSA 7145 is equipped with high computing power and allows FPGA integration for proprietary security algorithms. With Intel® QuickAssist for hardware acceleration for encryption, decryption, compression, and decompression, NSA 7145 can improve the performance for network security and compute-intensive applications alike. Meanwhile, the network security appliance can be configured with a large memory capacity for memory-demanding NFV and 100 GbE connections to alleviate bandwidth bottlenecks for outgoing traffic.
About NEXCOM: Founded in 1992, NEXCOM integrates its capabilities and operates six global businesses, which are IoT Automation Solutions, Intelligent Digital Security, Internet of Things, Intelligent Platform & Services, Mobile Computing Solutions, and Network and Communication Solutions. NEXCOM serves its customers worldwide through its subsidiaries in five major industrial countries. Under the IoT megatrend, NEXCOM expands its offerings with solutions in emerging applications including IoT, robotics, connected cars, Industry 4.0, and industrial security.