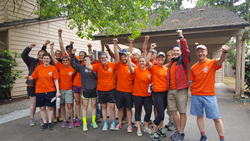 "We are thrilled to reach this milestone in HomeAid's history," said Peter Simons, CEO of HomeAid America.
Newport Beach, CA (PRWEB) July 14, 2017
HomeAid America, a building industry charity and one of the nation's largest builders of housing for the homeless, announced today that it has completed the 500th housing project in its 28 year history. The project was completed by the HomeAid Puget Sound (HAPS) chapter based in Seattle, with the Murray Franklyn Family of Companies serving as the Builder Captain.
"We are thrilled to reach this milestone in HomeAid's history," said Peter Simons, CEO of HomeAid America. "HomeAid has long been the building industry's contribution to the fight against homelessness in this country, and with this 500th project we have now added 9,300 beds and housed over 280,000 people through the years. It is something our industry should be very proud of."
The milestone 500th project was a 4-home renovation for Attain Housing in Kirkland, WA and was completed in less than 30 days. The homes provide safe and secure housing for formerly homeless single mothers and their children. Attain Housing provides transitional and permanent housing, case management and support services, helping families with children move forward from homelessness to stability.
Murray Franklyn, a Seattle based homebuilder with a 40+ year history, along with their subcontractors and trades completed the over $100,000 worth of renovations for less than $15,000 thanks to the in-kind contribution of labor and materials. This provided Attain Housing with savings that could be used to operate their programs and provide help to more people in need. "HomeAid Puget Sound's mission and model is designed to end homelessness and to elevate human potential," said Leanne Woodland, HAPS' Executive Director. "Murray Franklyn's homebuilding expertise and compassion to pull this project off on-time with 86% of the costs donated in-kind is absolutely stellar! The subcontractors and trades stepped up to ensure the project moved forward seamlessly. We were honored to learn our project was the 500th housing project in HomeAid's history!"
HomeAid was created in 1989 as a building industry effort to give back to the community by addressing the issue of homelessness. Each year over 3.5 million Americans experience homelessness at some point, and over 1.5 million of them are children. HomeAid's program identifies charities in the community working to help the homeless that need additional facilities in which to house people and provide programmatic resources such as job skills training and financial counseling, as well as physical and emotional support. HomeAid then finds builders who are willing to take on these projects and build them at a deep discount by enlisting their trade partners to give their time and materials as in-kind donations.
ABOUT HOMEAID AMERICA
HomeAid is a leading national non-profit provider of housing for homeless families and individuals, founded in Southern California in 1989 and currently working through a network of 17 chapters in 12 states. Through the generosity of builders, their trades and their suppliers, HomeAid has completed 500 housing projects nationwide at a value of more than $220 million, of which nearly 50 percent has been donated by the building industry. HomeAid currently has 60 additional projects in development across the country. Over the years, HomeAid has added over 9,300 beds in facilities helping the homeless, housing over 280,000 people. For more information about HomeAid, call 1-888-3HOMEAID or visit http://www.homeaid.org.