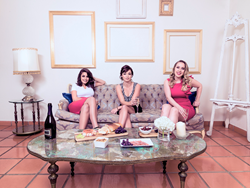 It's very empowering to be part of a woman-owned company, especially in a male-dominated field. We look forward to the day that companies like ours aren't unique, but we're happy in the meantime to fill that void.
Miami, FL (PRWEB) July 13, 2017
Conscious Bite Catering, a woman owned/ operated catering and full-service event planning company, celebrates two successful years of business with the launch of their new website and the upcoming grand opening of their kitchen, bar and event venue in Allapattah - one of Miami's fastest growing neighborhoods - located around the corner from the Wynwood Art District.
They've experienced vast success in South Florida, catering weddings, special events and corporate events. What started as a rough idea between three best friends has now turned into a lucrative business that is fully owned and managed by women. They specialize in event planning, menu building, nutritional meal preparation and event decorations. Furthermore, they support local business by sourcing fresh ingredients from local farmers and suppliers to turn familiar recipes into exceptional cuisine for all their clients.