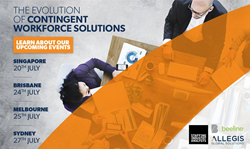 Singapore (PRWEB) July 12, 2017
WHO: Allegis Global Solutions (AGS), the world's largest managed service provider (MSP) partner; Beeline, a global leader in software solutions for managing the extended workforce; and, Staffing Industry Analysts (SIA), a global advisor on staffing and workforce solutions.
WHAT: AGS, Beeline and SIA are hosting an event series titled "Evolution of Contingent Workforce Solutions" throughout Asia Pacific this month. The event will feature presentations by experts from large organizations, including major global financial institutions. AGS' in-house talent innovation expert, Bruce Morton, and Beeline's vendor management systems (VMS) expert, Brian Hoffmeyer, will also present.
Topics to be covered include:

Market trends from Staffing Industry Analysts
The future landscape of the world of work
The latest innovation in MSP and VMS
Services procurement
WHEN/WHERE:
Singapore: The Coriander Leaf: 20 July 2017, 12:00 – 14:00h
Brisbane: Alchemy Restaurant: 24 July 2017, 12:00 – 14:00h
Melbourne: Cumulus Restaurant: 25 July 2017, 12:00 – 14:00h
Sydney: The Pavilion: 27 July 2017, 16:00 – 20:00h
###
About Allegis Global Solutions
Allegis Global Solutions, an Allegis Group company, is founded on a culture that is passionate about transforming the way the world acquires talent by delivering client-focused solutions that make a difference for businesses worldwide. From refining how you manage your contingent workforce to strengthening your employer brand to recruit top talent, our integrated solutions drive the business results you're after. As an industry leader, we draw upon decades of experience to design innovative tools, products and processes. We develop competitive practices that position organizations for growth and we deliver the insight needed to succeed in today's global marketplace.