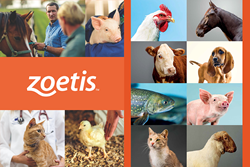 Jupiter, FL (PRWEB) July 14, 2017
American Farmer proudly announces the participation of Zoetis in an upcoming episode of the award-winning series, scheduled to air fourth quarter 2017. American Farmer airs Tuesdays at 8:30 a.m. ET on RFD-TV.
In this episode, American Farmer will focus on Zoetis, a global animal health company built on more than 60 years of experience in bringing innovations that benefit the well-being of both animal agriculture and companion animals.
The show will highlight how Zoetis addresses the disease challenges faced by cattle producers and veterinarians and the innovative manner in how they provide products, services and support.
"Like the American Farmer, Zoetis is committed to sharing discoveries that enhance the lives of the hard-working men and women devoted to the success of the cattle industry," said Nathan Voris, DVM, MBA, from Zoetis. "Research that helps veterinarians and producers better protect pregnant cows and young calves from infectious diseases is at the foundation of our vaccine business."
Zoetis discovers, develops, manufactures and markets a diverse portfolio of animal health medicines and vaccines designed to meet the real-world needs of veterinarians and the livestock farmers and companion animal owners they support.
"Zoetis is derived from the word 'zoetic,' meaning 'pertaining to life.' This exemplifies the company's dedication to supporting the veterinarians and livestock producers who raise and care for the animals on which we all depend," said Jennifer Tierney, senior producer for the American Farmer series. "We look forward to exploring this topic."
About Zoetis:
Zoetis is the leading animal health company, dedicated to supporting its customers and their businesses. Building on more than 60 years of experience in animal health, Zoetis discovers, develops, manufactures and markets veterinary vaccines and medicines, complemented by diagnostic products, genetic tests, biodevices and a range of services. Zoetis serves veterinarians, livestock producers and people who raise and care for farm and companion animals with sales of its products in more than 100 countries. In 2016, the company generated annual revenue of $4.9 billion with approximately 9,000 employees. For more information, visit http://www.zoetisUS.com.
About American Farmer:
American Farmer is a breakthrough program on a mission to showcase the latest advancements in agriculture and farming. From seed to harvest, livestock and more, our producers have traveled the country covering the people, places and issues impacting all areas of farm country.
American Farmer airs Tuesdays at 8:30 a.m. ET on RFD-TV. Check your local listing for show times.
For more information visit http://www.AmericanFarmerTV.com, or contact Jennifer Tierney at 866-496-4065 or via email at info(at)americanfarmertv(dot)com.