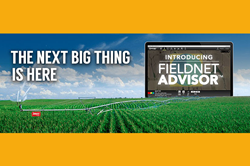 FieldNET Advisor delivers the information farmers need to decide when, where and how much to irrigate...
Jupiter, FL (PRWEB) July 17, 2017
DMG Productions, LLC proudly announces partnership with Lindsay Corporation (Lindsay) in an upcoming episode of the highly acclaimed American Farmer television series, scheduled for fourth quarter 2017. American Farmer airs Tuesdays at 8:30aET on RFD-TV. Check your local listings for more info.
Lindsay is known worldwide as a leader in providing differentiated irrigation, water management and infrastructure products and services that improve productivity on the farm. This episode of American Farmer will focus on FieldNET® by Lindsay. Providing easy access to an entire irrigation operation, FieldNET® is a fully integrated remote management tool that lets producers view, control and optimize their irrigation system from virtually anywhere.
"Lindsay Corporation is excited to partner with the American Farmer TV series to highlight a groundbreaking new technology just released by FieldNET that is revolutionizing the way farmers manage and optimize their irrigation operations," said Brian Magnusson, Vice President at Lindsay Corporation. "FieldNET Advisor delivers the information farmers need to decide when, where and how much to irrigate."
Viewers will learn how this smart irrigation management solution uses existing FieldNET technology, combined with proven crop and irrigation science, to compile and process a massive amount of data that is then used to deliver valuable, timely irrigation recommendations to the farmer. FieldNET Advisor optimizes the timing and amount of water applied at every point in the field throughout the entire growing season, helping to maximize yield potential while reducing unnecessary water application and related input costs. Further, since this solution is fully integrated within the FieldNET remote irrigation management platform, it requires no additional hardware and seamlessly enables farmers to put the optimized irrigation recommendations from FieldNET Advisor into action using their phone, tablet or computer from virtually anywhere.
"The end result is this: less time in the field, less spent on valuable resources, and greater control of your operation," said Robert Sikich, Senior Producer for the American Farmer series. "We are excited to educate the public about how this new technology is helping give control back to farmers and producers around the globe."
For more information on Lindsay Corporation, visit: http://www.lindsay.com or http://www.myfieldnet.com.
About American Farmer:
American Farmer is a breakthrough program on a mission to showcase the latest advancements in agriculture and farming. From seed to harvest, livestock and more, our producers have traveled the country covering the people, places and issues impacting all areas of farm country.
American Farmer airs Tuesdays at 8:30am ET on RFD-TV. Check your local listing for show times.
For more information visit http://www.AmericanFarmerTV.com or contact Robert Sikich at (866) 496-4065 or via email at: info@AmericanFarmerTV.com.