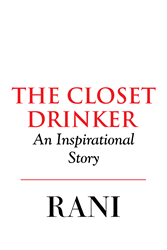 SILVER SPRING, MD (PRWEB) July 17, 2017
In a society where alcohol is frequently a part of social gatherings, one must wonder how many people are secretly struggling with temptations. Some people who suffer from alcohol addiction go to extreme lengths to hide their addiction from their families and friends. One author and recovering alcoholic is sharing her touching story in the new book, "The Closet Drinker."
Written under a pseudonym to preserve her anonymity as a sober member of Alcoholics Anonymous, Rani wrote "The Closet Drinker" to carry the message of hope to still-suffering alcoholics. The book is set against the backdrop of India's national movement for independence and follows a young woman named Uma who turns to alcohol as an escape and way to cope with her feelings of inadequacy and low self-esteem.
"There are so many people in the world who need help – who need someone to tell them it will be all right – and I want my book to be a place where an addict can find comfort and hope," said Rani. "I was like you once – despairing, helpless, and lonely in the face of my fatal addiction – and I want you to know that you can save yourself from your demons."
The book offers those who are struggling with addiction the reassurance of hope and recovery. "The Closet Drinker" is an inspirational story for alcoholics and their loved ones as it shows love can conquer all.
"The Closet Drinker"
By: Rani
ISBN: 978-1-5320-1531-1 (sc); 978-1-5320-1530-4 (e)
Available on: Barnes & Noble, Amazon and iUniverse
About the author
Rani, a native of the South Indian state of Andhra Pradesh, earned a Master of Arts degree in Western History from the University of Lucknow before moving to the United States as a young bride with her American husband. She is also the author of two cookbooks: "Feast of India: A Legacy of Recipes and Fables" and "India's Unsurpassed Cuisine: The Art of Indian Curry Cooking."
###
Review Copies & Interview Requests:
LAVIDGE – Phoenix
Chris Peña
480-998-2600 x 519
cpena(at)lavidge(dot)com
General Inquiries:
LAVIDGE – Phoenix
Bryan Beach
480-998-2600 x 510
bbeach(at)lavidge(dot)com