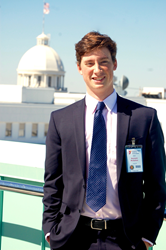 "Living by Mark 2:17 and Luke 10:27 means that you love God first, but share his equal and impartial love for all others, despite their personal shortcomings or societal status."
Wake Forest, North Carolina (PRWEB) July 13, 2017
Corporate Chaplains of America (CCA) has announced that Mobile, Alabama's Bennett McGehee has been awarded the workplace chaplaincy organization's "10:27" Scholarship.
McGehee plans to graduate May 2019 from the University of Alabama with a major in Economics and a minor in French. He is the son of Todd and Laura McGehee. His father serves as a CCA chaplain in the Mobile, Alabama area.
CCA's "10:27" Scholarship – a grant of $2,500 – is awarded to a student who has shown dedicated commitment to the command to love God and others laid out in Luke 10:27. It is also intended to be a blessing to a CCA chaplain by helping provide for the cost of their children's higher education.
Jesus says in Luke 10:27, "You shall love the Lord your God with all your heart and with all your soul and with all your strength and with all your mind, and your neighbor as yourself."
Larry Griffith, CCA's CEO, recognized Bennett for his academic achievements, volunteer work and involvement in the church and community.
In his essay, Bennett said, "Living by Mark 2:17 and Luke 10:27 means that you love God first, but share his equal and impartial love for all others, despite their personal shortcomings or societal status." Bennett aspires to work as an economist in a legal or legislative setting, and ultimately hopes to hold public office. "My dad used to tell me that the best way to serve is to find your talents and skills, and use them to help others in unique ways."
The "10:27" Scholarship is open for applications by dependent children of full-time CCA chaplain managers and chaplains. Students must be US residents in their final year of high school or actively enrolled on a full-time basis and in good standing in an accredited community college or 4-year institution. Scholarships are one-time awards.
Based in Wake Forest, NC, Corporate Chaplains of America specializes in recruiting and placing trained, full-time chaplains in workplaces. CCA chaplains develop caring relationships with employees and their families in the hope of gaining permission to share with them the life-changing Good News of Jesus Christ. Each year, they offer compassionate support to thousands of individuals dealing with personally traumatic events as well as more routine life issues. Founded in 1996, CCA works with hundreds of companies coast-to-coast, as well as internationally, to accomplish its mission.