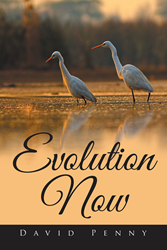 WELLINGTON, New Zealand (PRWEB) July 17, 2017
A New-Zealand based author has released a book about the theory of evolution stemming from years of personal experience. "Evolution Now," by David Penny, combines the author's own passion of evolution with the studies of Karl Popper.
'Now' is a telling of the theory of evolution as told primarily by Karl Popper, while the author shares his own knowledge on the topic. The book begins with theories about evolution from as early as the 1600s and continues onward, encouraging readers to think.
Penny has been studying evolution for more than 40 years. He hopes for people to know and understand that while the processes occurring in the present are the same processes as the past, evolution is inevitable.
"David Penny's 'Evolution Now' is a clearly presented, absorbing ready for anyone who's ever questioned Darwin's certainties – and maybe even more so for those who haven't," a reviewer wrote in a review of "Evolution Now."
An enticing discussing about the theory of evolution, "Evolution Now" will peak readers' curiosity regardless of one's knowledge about evolution.
"Evolution Now"
By David Penny
ISBN: 978-1-4990-9929-4 (softcover); 978-1-4990-9931-7 (hardcover); 978-1-4990-9930-0 (electronic)
Available at Xlibris Bookstore, Amazon and Barnes & Noble
About the author
David Penny is a 'Distinguished Professor' at a New Zealand University, and has a PhD from Yale University. He is a New Zealander by birth.
###
Review Copies & Interview Requests:
LAVIDGE – Phoenix
Chris Peña
480-998-2600 x 519
cpena(at)lavidge(dot)com
General Inquiries:
LAVIDGE – Phoenix
Bryan Beach
480-998-2600 x 510
bbeach(at)lavidge(dot)com