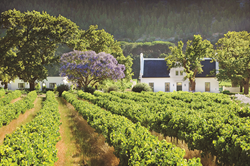 New York, NY (PRWEB) July 13, 2017
While known for its safaris and exotic wildlife, the members of The United States Tour Operators (USTOA) are encouraging travelers to explore six additional reasons to travel to the fascinating destination of South Africa. Africa's southernmost country offers holidaymakers a diverse selection of experiences within a close proximity, stunning natural beauty, a temperate year-round climate, welcoming local people, a strong current economic value for American tourists, and an unexpected culinary and wine scene.
Following is a sample of itineraries from USTOA tour operator members to inspire a South African vacation now. For more USTOA member packaged travel itineraries to South Africa, visit http://www.ustoa.com/blog/south-africa-tours or search South Africa in the "Find Your Dream Vacation" section of the USTOA homepage.

For more information on USTOA, visit http://www.ustoa.com.
About USTOA:
Representing nearly $15 billion in revenue, the member companies of U.S. Tour Operators Association provide tours, packages and custom arrangements that allow 8.6 million travelers annually unparalleled access, insider knowledge, peace-of-mind, value and freedom to enjoy destinations and experiences across the entire globe. Each member company has met the travel industry's highest standards, including participation in the USTOA's Travelers Assistance Program, which protects consumer payments up to $1 million if the company goes out of business.
As a voice for the tour operator industry for more than 40 years, USTOA also provides education and assistance for consumers and travel agents.
Contact:
Gina Dolecki/Katherine Henry
Redpoint
212-229-0119
dolecki(at)redpointspeaks(dot)com / henry(at)redpointspeaks(dot)com