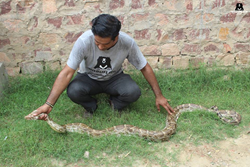 We have to thank the Indian Air Force for considering the python's well being.
Agra, India (PRWEB) July 14, 2017
Members of an India Air Force (IAF) unit were more than a little surprised to find themselves sharing a flight with an uninvited, 8-foot-long rock python. Soldiers concerned about the snake's well being called Wildlife SOS (WSOS), a Delhi-based animal-rescue and rehabilitation group, to safely extricate the scaly stowaway, which was trapped in the undercarriage of their AN-32 aircraft.
The process of removing the stuck serpent from such a narrow space without injuring it took nearly five hours, according to WSOS representative Baiju Raj. "Rescues like these require skills and patience," he told the Times of India. "Our rescuers have to be extremely careful to avoid any casualty. We have to thank the Indian Air Force for considering the python's well being, and reporting the incident to us."
Wildlife SOS is currently keeping the python under observation. It will be released back in to its natural habitat — not an aircraft — once deemed fit. Indian rock pythons are non-venomous but often reach 10 feet in length. Despite the size, the python likely posed little threat to the flight crew — beyond initial shock and frazzled nerves, of course.
"Reptiles, and snakes specifically, are very misunderstood," says WSOS executive director said in a press release. "Even larger ones like this python try to avoid people as much as possible. I can still understand why the Air Force crew was surprised to see one on a plane though. But we're thrilled they called our Wildlife SOS rescue hotline instead of hurting it."
--30--
For more information, please contact Wildlife SOS USA Communication and Development Specialist John Pecorelli by telephone at 801/750-0301 or by email at john(at)wildlifesos(dot)org.
About Wildlife SOS: Wildlife SOS (WSOS) is one of the largest rescue and conservation charities in South Asia, operating 10 wildlife rehabilitation facilities across India. This includes the world's largest sloth bear rescue center and the recently established Elephant Conservation and Care Center, which is the first of its kind in India and currently houses approximately 25 rescued elephants. WSOS also runs a tribal rehabilitation project creates alternative livelihoods for poachers and other indigenous communities that once depended on wildlife for a economic sustenance. Additionally, WSOS operates a leopard rescue center, a wildlife hotline in New Delhi and Agra, and Forest Watch, which is an anti-poaching wildlife crime enforcement unit. More information about the organization can be found at http://www.wildlifesos.org. The U.S. branch of Wildlife SOS is based in Salt Lake City, Utah, and received 501(c)3 charity status in 2005.