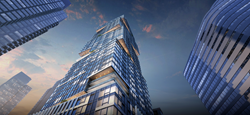 "We'll bring Seattle to Vancouver this coming weekend and we expect consumers will discover many parallels between these sister cities." - Michael Cannon
Seattle, WA (PRWEB) July 12, 2017
Representatives of NEXUS, a 378-unit, 41-story luxury high-rise condominium being built in downtown Seattle, will be showcased 150 miles north in downtown Vancouver on Saturday and Sunday, July 15th and 16th from 11am to 5pm. The pop-up event will be held at 1030 West Georgia Street, Suite 233 and include scale models of the tower and neighborhood, view exhibits, floor plans, building amenities, introductory pricing and market information. Representatives invite Vancouver-area brokers and buyers to consider a second home or investing in what has become the fastest-growing large city the US with the greatest median home price increases nationally, eight months in a row according to the closely watched S&P/Case-Shiller Home Price Index. Residential values throughout most neighborhoods in the metro area have been rising by more than 1-percent per month.
"We've noted a steady increase of international buyers at NEXUS, mostly from Vancouver and Asia," said Michael Cannon, the Sales Director for NEXUS and a broker for Seattle-based Realogics Sotheby's International Realty (RSIR). "We'll bring Seattle to Vancouver this coming weekend and we expect consumers will discover many parallels between these sister cities."
Cannon cites several factors for the rise in foreign demand of Seattle real estate. Contrary to British Columbia, there is no property purchase tax on new construction in Washington State and unlike Vancouver, there is no foreign homebuyer tax. He says the combined tax savings alone, coupled with more affordable price points, mean ownership in Seattle is about half the cost of like property in Vancouver. Meanwhile, meteoric job growth, rising household incomes and rental rates, that are among the highest on the West Coast, provide for attractive investment prospects. Such market fundamentals have become increasingly visible to international investors, especially from China as global media has recently paraded Seattle as the "next Vancouver".
"In many ways, the urbanization of Seattle and its global appeal reflects what Vancouver enjoyed over these past 20 years, although it's happening much quicker now," said Dean Jones, President and CEO of RSIR. "Seattle is also following in the footsteps of San Francisco with a sustained tech boom and a real estate gold rush to match. Savvy investors know it."
Seattle currently has 68 tower cranes erected above its skyline – more than any other city in the US. However, 94-percent of the 14,000 residential units built downtown since 2010 were apartments for rent because lease rates have increased by more than 50-percent over that same term, according to research by RSIR and O'Connor Consulting Group. Such robust housing demand stems the in-city expansion of urban campuses for tech titans including Amazon, Facebook, Google, Apple, F5 Networks, Expedia, Tableau and others – so much so the city has been dubbed the "Silicon Forest". Recruiting talent to Seattle has proven to be easier than the Bay Area because the city offers a thriving 18-hour lifestyle, the cost of living is much lower and Washington has no state income tax.
Progressive architecture has garnered NEXUS critical acclaim for its series of stacked cubes that appear to be rotating while flexible floor plans, contemporary finishes and robust amenities have established a new benchmark for luxury. The high-tech, high-rise is also the first embrace an exclusive-to-project app called XEN, which will allow for home automation features, community networking and the ordering of products and services from preferred vendors in the neighborhood.
Located at the corner of Howell Street and Minor Avenue in Seattle's burgeoning East Village neighborhood, NEXUS is a landmark in the making and at the forefront of a 20-block redevelopment area. When substantially complete in 2020, two dozen new high-rise towers comprising an estimated $6 billion in capital investment will include more than two million sq. ft. of office space; 200,000 sq. ft. of retail (including new restaurants, residential services and a new urban grocer); 1,900+ hotel rooms; 10,000 housing units (mostly apartments); and the $1.7 billion+ expansion of the Washington State Convention Center.
NEXUS is currently the only high-rise condominium in downtown Seattle being built in downtown Seattle with presales offered from the low $900,000s (USD) to $5 million. Purchasing requires a 5-percent earnest money deposit at signing and a 5-percent deposit increase by June 29, 2018. Occupancy is scheduled for mid-2019. NEXUS sales team members are cooperating with BC brokers.
"We've been active in San Francisco and Vancouver for decades and Seattle is the next global gateway, which is quickly catching up to its West Coast peers," said Christian Chan, Executive Vice President of Vancouver-based Burrard Group. "As our first development in Seattle, we programmed NEXUS to be iconic in design, incomparable in quality and amenities and a harbinger of our future projects in the region. We look forward to sharing this opportunity in our home town of Vancouver."
The rapid sales velocity in Seattle is also reminiscent of Vancouver. Since its public sales debut on March 18th, 2017, more than 80-percent of the building has been presold making NEXUS the fastest-selling residential development in Seattle's history. Prospective buyers are encouraged to register online for priority sales information at http://www.NEXUSseattle.com or contact Michael Cannon at 206.258.1088.
###
About Realogics Sotheby's International Realty (http://www.RSIR.com) - Artfully uniting extraordinary homes with extraordinary lives, Realogics Sotheby's International Realty is a leading global sales and marketing brokerage firm in the Pacific Northwest. Recognized by the Puget Sound Business Journal amongst the fastest-growing private companies in Washington State for 2012, 2013, 2014, 2015 and 2016 the boutique real estate firm of 225+ brokers consistently rank among the top producing firms within the markets that it serves with branches in downtown Seattle, Bainbridge Island, Kirkland, Issaquah and Madison Park.
About Burrard Group (http://www.Burrard.com) – The Burrard Group has been consistently creating quality residential communities for 25 years, and has built a diverse portfolio of master-planned communities, multi-family developments, high-end single-family residences and resort lodging properties throughout Pacific Rim gateway markets. In 2016, Burrard Group established offices in Seattle.
EDITORS NOTE: Development renderings, neighborhood aerials and additional market statistics are available upon request.