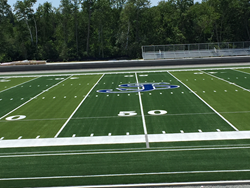 Our old stadium field was grass and we had to limit the use to game-day. The Shaw Sports Turf surface provides much more flexibility and more playing time for our students. Maintenance requirements are also less.
Danvers, Massachusetts (PRWEB) July 13, 2017
Founded in 1907, St. John's Prep is located in the Northeastern coastal town of Danvers. A Catholic, Xaverian Brothers Sponsored School for young men grades six through 12, St. John's has a proud athletic tradition with students participating in 22 interscholastic sports and over 20 intramural sports.
On its sprawling 175-acre campus is Cronin Memorial Stadium, under renovation as part of a major project that includes building a new Wellness Center. The project will be completed for the start of school in September 2017. In addition to the two-story Wellness Center adjacent to the stadium, the project includes a regulation-size 400-meter track, synthetic turf field, lights and a PA system, new bleachers, and a new scoreboard. The new turf field is also designed to be wider than the former field to allow for the addition of soccer.
Steve Cunningham, Assistant Head of School for Facilities, explains the many reasons why the school chose to go with synthetic turf.
"Our old stadium field was grass and we had to limit the use to game-day. The Shaw Sports Turf surface provides much more flexibility and more playing time for our students. Maintenance requirements are also less, and we do not have to water it," said Cunningham.
In addition, the school is excited about the impact on the school as a whole.
"The flexibility of scheduling will have a huge impact on how we use our campus for athletics and wellness programs. The Shaw Sports Turf surface will open up possibilities for our entire school community, and it will be a catalyst for expanding our in-house turf maintenance capabilities," said Cunningham.
The new 90,000 square-foot field will be primarily used for football, soccer, and lacrosse, and will feature Shaw Sports Turf's Legion system. Legion is a combination of high-performance monofilament fibers and a durable slit film fiber. The slit film fiber is a workhorse, which will handle the workload, while the monofilament provides a more resilient surface that enhances performance characteristics.
For St. John's Prep, their long experience working with Shaw has been nothing but positive.
"Our existing field is a Shaw field and it has worn well. The process with Shaw has been smooth and schedule has been maintained," said Cunningham.
Together, Shaw and install partner, R.A.D Sports, were able to provide St. Johns Prep with a high quality product that is resilient to the New England weather and ideal for the needs of the school.
"Our company is proud to be able to rebuild St. John's field and track that will have a great impact on young athletes." said Rob Delmonico, President of R.A.D. Sports.
Construction on the new field began in early May and the new turf is in place now, with football as the first activity to be held on the field.
"There will be a field dedication ceremony on September 23, 2017, to dedicate the field to a longstanding member of the school community," said Cunningham.
"Cronin Stadium has a long and distinguished history in St. John's athletics. We are confident that the installation of our Legion HP product will raise the level of performance and safety of St. John's athletes," said Joe Kacevich, territory manager.
ABOUT SHAW SPORTS TURF
A wholly-owned subsidiary of Berkshire Hathaway Inc., Shaw Industries is a full flooring provider to the residential and commercial markets. Shaw supplies carpet, hardwood, laminate, resilient, and tile/ stone flooring products, as well as synthetic turf. Shaw Sports Turf is one of the leading synthetic turf companies in North America and has represented quality and innovation for more than two decades with over 1,500 successful installations, including an impressive list of high-profile field installations. For more information please visit http://www.shawsportsturf.com, call 866-703-4004 or find us on Facebook.
ABOUT R.A.D. SPORTS
R.A.D. Sports is a family-owned business that specializes in the construction of high-quality athletic and recreation facilities. R.A.D.'s projects are located throughout New England and the Mid-Atlantic regions. Since 1994, R.A.D. Sports has grown to be one of the most trusted and successful athletic and recreation facility contractors in the industry. Rob and Derek Delmonico, owners of R.A.D. Sports, provide hands-on management of each project. They bring a solid foundation of knowledge and experience to each project and have dedicated themselves to building a company with the finest reputation in the industry. Visit their website at http://www.radsports.com or call 781-871-4400.