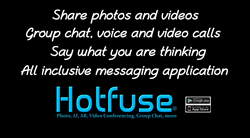 Hotfuse, an innovative fun packed all inclusive messaging app, is here! More in works!
Walnut Creek, CA (PRWEB) July 18, 2017
Hotfuse group messaging lets users exchange messages with a private chat group, attach photos, videos and other media to make it fun to build a cohesive community of friends, fans and colleagues. For added privacy, the group chat is fully end to end encrypted.
Hotfuse offers integrated voice and video call features between members and for added privacy, calls can only be between those on user's contacts list. Hotfuse is also releasing a group video chat feature.
Hotfuse is all about mass communication. A user can easily post a calendar event that will be visible only by the user's followers. This is a great feature for a musician performing a concert, a politician holding a rally or anyone organizing any mass event. In addition, Hotfuse also offers micro blog which is accessible by all on the Hotfuse platform so the user can speak out loud to tell everyone what is on the user's mind.
Hotfuse has developed advanced algorithm to recognize faces and apply unique facial filters, masks, sunglasses, hats, animations and filters. In addition, applying art filters creates infinitely editable possibilities. Users can create an array of unique images and augmented reality layers. With Hotfuse, taking a picture is only the first step, as users can deck it out with their own personality and have fun with it. Hotfuse's advanced features lets a user highlight a section of the photo with a finger on the screen of the phone and instantly clip, crop or turn that selection into a sticker just like an emoji of you own personal design and paste anywhere on the photo repeatedly. What's unique here is the technology and Hotfuse has made this technology accessible to everyone via the Hotfuse App.
Hotfuse members can easily use the instant polling feature to craft a few questions and let your friends, family, colleagues and customers tell you what they think. It is all fun and informational.
Inviting friends or family to a birthday party or an event is easy with a only few clicks to add the invitees from the user's contact list and a short message to get the party set up. In summary, Hotfuse is designed for fun with strong features driving user value. Hotfuse gets straight to the heart of sharing and communicating creatively and promises a new, exciting and compelling experience. What is different about Hotfuse is that the app is designed from the ground up for mobile devices and is more than just a social media company, it is about shaping your life around your friends and family. Pricing and Availability: The Hotfuse App is currently available for free for the first six months and available worldwide through iTunes App Store in Photo & Video category or for Android phones through the GooglePlay store under the Social category. Hotfuse is also accessible on the web.
Hotfuse Communications LLC is a social app development company for mobile devices and is committed to bringing together the fragmented elements of personal and business communication all on one platform to make sharing easy, creative and fun for all demographic groups.