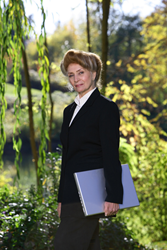 Grants Pass, OR (PRWEB) July 13, 2017
Research pioneer Sharon Kleyne took to the air to offer tough talk and ask some straightforward questions. Do you know that by 2020 the National Health Survey says that 30 million Americans will be blind? Did you know that by then nearly 60 million Chinese will be blind? Imagine blindness totals from every country in the world; yes, we're looking realistically at people going blind by the billions.
These are the projected statistics that keep Water advocate Kleyne, founder of Bio-Logic Aqua® Research Water Life Science® and creator of Nature's Tears® EyeMist® awake at night. These are the statistics that drive her into her research center to find answers and new water technology that will reduce such daunting, horrible numbers. Yet, there was also good news that she shared with her listening audience on the nationally syndicated The Sharon Kleyne Hour Power of Water, Global Climate Change and Your Health on VoiceAmerica sponsored by Nature's Tears® EyeMist®.
The good news, according to Kleyne, is that millions of people—perhaps billions—can be saved from blindness. Just how can that happen? Through education, that's how. Kleyne has spent more than two decades as one of the most respected water educators on the planet and she is not letting up. "We can't afford to let up," she said. "People everywhere need to commit themselves to learning all that they can about eye diseases such as dry eye syndrome, glaucoma, cataracts and yes, blindness, too."
In Kleyne's view, dry eye is a prime enemy because so many people worldwide experience its symptoms of soreness, swelling, redness, blurriness and acute pain. Chinese medical professionals, for instance, believe that almost the entire population suffers from dry eye symptoms at some point in their lives. The same can be said of the U.S. and virtually every other country on earth.
Kleyne believes that understanding the process of evaporation is essential to becoming more successfully proactive about one's ocular health. Kleyne described how a natural process of evaporation begins and continues until death the moment the baby departs the mother's watery womb and is born. All through life, if one wishes to be healthy, one must supplement the lost water vapor of body and eyes. This must be done on a daily basis and several times a day. "The eye's tear film," Kleyne said, "is naturally 99 percent water. When water in the eye evaporates and is not replenished," Kleyne continued, "one is in for serious ramifications, including blindness." Conventional eye drops and saline solutions trap moisture already present in the eye, but they do not replenish evaporated moisture. It is best to use them with a pure water product like Nature's Tears® EyeMist®, applying the mist first, then the drops or saline solution.
"Please resolve to take greater charge of your health," said Kleyne, "especially your eyes and the precious gift of sight. You only have two eyes," Kleyne reminds us, "and they are almost completely made up of water. If you want to see clearly, you must keep your eyes hydrated!" After all, as Kleyne pointed out, we're only given two eyes to begin with; doesn't is make sense to do everything we can to ensure that they remain healthy? Of course it does!