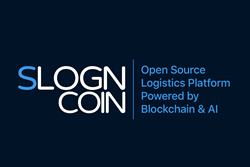 SLOGN's goal is to bring unseen efficiency to $800 billion logistics industry through blockchain, smart contracts and AI.
Santa Clara, California (PRWEB) July 13, 2017
A sleeping giant? The global logistics market is set to expand from US$8.1 trillion in 2015 to US$15.5 trillion by 2023, registering a CAGR of 7.5% from 2015 to 2024.
In this huge segment, SLOGN, the Smart Logistics Network, is ready to be launched, aiming at disrupting the way the logistics market works. SLOGN is an open source platform for decentralized logistics that uses blockchain and artificial intelligence that will bring significant innovation in transparency, efficiency, and speed in this market.
The team behind SLOGN possesses many years of experience in the trucking industry, blockchain, and enterprise software design. SLOGN derives from Bridge18, a Silicon Valley startup founded by Govind Singh, one of the best graduates of Founder Institute, the famous Silicon Valley incubator. As Ihor Pidruchny, Product Designer at SLOGN, emphasizes "Our mission is to achieve higher efficiency via the power of a network."
SLOGN is launched through a promising Initial Coin Offering (ICO) campaign. The ICO will run for three weeks, from July 25 till August 15, 2017. The total coin supply that will be issued is 8 billion SLOGNs (or 800,000 worth of Ethereum) where 0.0001 ETH = 1 SLOGN. Early participants will benefit from large bonuses: the first 20,000 ETH contributed will receive 30% premium and the next 50,000 ETH will receive 15% premium.
Since approximately 3 million people are involved in this market in the US only, the demand is expected to be increased. To ensure a fair distribution to individuals, SLOGN's team of experts is working round the clock to balance the amount that can be pre-sold to venture companies.
For further information and to participate in the ICO, visit http://www.slogn.net The white paper of the ICO is available here
https://github.com/SLOGNNet/whitepaper/blob/master/whitepaper.pdf
About
SLOGN, the Smart LOGistics Network, is an open source technology for decentralized logistics. Its core team consists of seasoned experts in business and technology, the trucking industry, blockchain, and enterprise software design. The aim of the platform is to transform logistics through open source solutions that everyone can take, use and contribute to. http://www.slogn.net