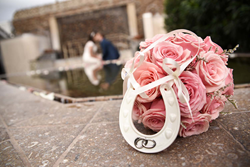 Two additional "lucky" wedding days with three "7s" are coming up in July: 7/17/17 and 7/27/17.
Las Vegas, NV (PRWEB) July 13, 2017
The famous Chapel of the Flowers in Las Vegas, home to elegant wedding ceremonies since 1960, hosted weddings and vow renewals non-stop from 9am to 9pm on July 7, 2017, one of the luckiest days of the year to get married. Three "7s" is always of interest to visitors who travel to Las Vegas, but this day also captured the attention of the local media, including Fox 5 reporter Miguel Martinez-Valle, who selected Chapel of the Flowers as the location for live segments during the popular 4 pm and 5 pm news broadcasts. Chapel of the Flowers, located at 1717 Las Vegas Boulevard near the SLS and Stratosphere hotels, is known for its stunning indoor and outdoor chapels that seat between 20 and 80 guests.
Couples from around the world chose to exchange vows at the historic freestanding one acre wedding venue on the Las Vegas strip, where memorable ceremonies took place at the Victorian, La Capella, Magnolia and Glass Gardens, each chapel featuring upscale interiors with state-of-the-art lighting and discreet video cameras that live-stream wedding ceremonies to families and friends unable to attend in-person. Sixty-four ceremonies took place on July 7, an increase at Chapel of the Flowers that was consistent with the uptick in marriage license applications for the lucky day in the wedding capital of the world, according to the Clark County Marriage License Bureau.
Two additional "lucky" days with three "7s" are coming up in July for those who missed the 7/7 date: 7/17/17 and 7/27/17. Ceremony times for both days are still available at Chapel of the Flowers and may be booked by calling 702-735-4331 (toll-free at 1-800-843-2410) or emailing info(at)littlechapel(dot)com.
In addition to several packages personalized for any size wedding and budget at the Chapel of the Flowers venue, experienced planners at the chapel can arrange wedding and vow renewal ceremonies at beautiful state parks, historical sites and at the Tropicana LV Resort, as well as put together post-wedding celebrations, from intimate dinners to lavish receptions at the most sought-after hotels, country clubs, ballrooms, museums and restaurants in the Las Vegas region. The High Roller ferris wheel at the Linq is also available for unique wedding ceremonies and can also be booked by contacting Chapel of the Flowers.
Wedding, commitment ceremony and vow renewal packages at Chapel of the Flowers include professional wedding planners and coordinators, modern limousine transportation, professional photography and videography and designer floral services. The Chapel employs a staff of nearly 90 on-site employees to ensure that each couple is pampered and that guests receive exemplary service. The one acre venue with waterfalls, gardens, a gazebo and a crystal canopy consistently ranks as one of the most popular destinations to see in Las Vegas, according to TripAdvisor.com, and consistently earns top reviews on theknot.com, Facebook and Wedding Wire from brides, grooms and their guests.
About Chapel of the Flowers
Founded in 1960, Chapel of the Flowers is Las Vegas' highest rated and largest full-service wedding venue, providing traditional, modern and elegant Las Vegas weddings on the world-famous Strip. Nearly an acre of cobblestone-accented grounds and vibrant backdrops are designed to capture every picture-perfect moment of a Las Vegas wedding. Professional wedding planners ensure that every aspect of the wedding day is personal, easy and stress-free. Chapel of the Flowers' impeccable customer service assures the couple that all details of the wedding, including the ceremony, flowers, award-winning photography and reception venues will result in cherished memories for a lifetime. Chapel of the Flowers is honored to be one of the preferred venues in Las Vegas, the wedding capital of the world.
Media Contact
Nicole Robertson
Director of Operations, Chapel of the Flowers
702-735-4331, ext 806
NicoleR(at)littlechapel(dot)com