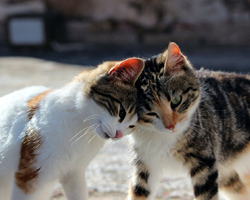 A rushed introduction can lead to cats feeling threatened. Ensure you take your time and do it properly!
London, UK (PRWEB UK) 26 July 2017
Popular online magazine Katzenworld is looking at how cat guardians can make it easier to introduce new cats to a household with established resident cats.
People often worry about bringing a second or even third cat into a household as cats are generally known as solitary creatures.
However this is not always true and of course if appropriate steps are taken it will make an introduction much easier.
In this latest cat advice guide the team of Katzenworld is looking at the key issues that can occur during introductions and how to overcome these.
About Katzenworld:
Katzenworld is an online cat magazine working on providing cat owners and cat lovers with their number one source for:

Insight on cat care
Top cat events
Cat Cafes
Cat products