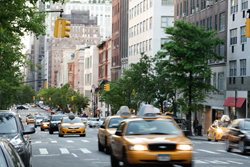 From internationally-renowned fashion brands creating new flagships, to independent New York-based designers opening their first boutiques, the first half of 2017 demonstrated the attraction of Madison Avenue to all sectors of the luxury marketplace
New York, NY (PRWEB) July 14, 2017
Between January 1 and June 30, 2017, the following boutiques and galleries have opened on Madison Avenue:
Alison Lou (jewelry): 20 East 69 Street
Balenciaga (fashion & accessories): 840 Madison Avenue
Brioni (fashion & accessories): 680 Madison Avenue
Ceysson & Bénétière Gallery (art gallery): 956 Madison Avenue
Edie Parker (handbags & accessories): 781 Madison Avenue
Elie Saab (fashion & accessories): 860 Madison Avenue
Golden Goose Deluxe Brand (fashion & accessories): 935 Madison Avenue
Kilian (fragrance & jewelry): 746 Madison Avenue
Louis Vuitton Masters (leather goods): 655 Madison Avenue
Majorelle Restaurant: 28 East 63 Street
Mr. & Mrs. Italy (fashion & accessories): 779 Madison Avenue
Vinotherapie Spa by Caudalie (skincare): 819 Madison Avenue
"From internationally-renowned fashion brands creating new flagships, to independent New York-based designers opening their first boutiques, the first half of 2017 demonstrated the attraction of Madison Avenue to all sectors of the luxury marketplace," said Matthew Bauer, President of the Madison Avenue Business Improvement District (BID). "In addition to our roster of new retailers, we are also pleased about existing Madison Avenue businesses opening new boutiques & galleries during this period, including Bally (689 Madison Avenue), Lévy Gorvy (909 Madison Avenue), Ovando (1091 Madison Avenue), Stubbs & Wootton (944 Madison Avenue) and Tom Ford (680 Madison Avenue). Art, fashion, home decor, spas and fine dining are all sectors representing our newest retailers, and are all ingredients that continue to make Madison Avenue the leading destination of those who wish to experience the finer things in life."
ABOUT MADISON AVENUE
Madison Avenue, on the Upper East Side of Manhattan, is North America's largest luxury district. Featuring some of the most sought-after real estate in the world, Madison Avenue features the flagship boutiques of the finest European and American designers; celebrated restaurants; spas and salons for exclusive pampering; five internationally renowned hotels, over one hundred galleries, and The Met Breuer museum. Madison Avenue exhibits timeless elegance with a contemporary flavor that is distinctively New York.