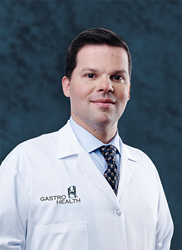 Miami, Flolrida (PRWEB) July 13, 2017
Gastro Health welcomes Andres Gelrud, M.D. as its newest gastroenterologist. Dr. Gelrud will also serve as Director of the Pancreatic Disease Program at Baptist Health System's Miami Cancer Institute.
An internationally renowned expert in diseases of the pancreas, Dr. Gelrud will focus on providing care for acute, recurrent and chronic pancreatitis, genetic conditions that lead to pancreatitis, complications from pancreatitis, pancreatic cancer and pancreatic exocrine insufficiency, as well as for general gastrointestinal disorders. He will also offer both medical and endoscopic treatment options that arise from pancreatic diseases.
"The successful recruitment of Dr. Gelrud to Gastro Health is yet another in a long line of accomplishments this year for Gastro Health," said Alejandro Fernandez, Gastro Health CEO. "His expertise means that patients with pancreatic diseases who are under our care will now have access to some of the newest approaches thanks to Dr. Gelrud's expertise."
Dr. Gelrud is an expert in interventional endoscopy and endoscopic retrograde cholangiopancreatography (ERCP), procedures that help to diagnose and treat diseases of the bile duct and pancreas. He is highly skilled at performing transgastric pancreatic necrosectomy, a procedure to remove pancreatic tissue through the mouth using endoscopes rather than through abdominal surgery. He is also a leader in total pancreatectomy with islet autotransplantation which is used to treat chronic pancreatitis.
"We understand that our community counts on Gastro Health to provide outstanding, specialized GI care so we are thrilled to have Dr. Andres Gelrud join us," said Dr. James Leavitt, President of Gastro Health. "Besides being an outstanding clinician, he is a truly caring person and will make a great addition to our team."
Dr. Gelrud has written over 200 publications consisting of articles, abstracts in peer-reviewed journals and textbook chapters. He is the co-editor of the Journal Pancreas and sits on the board of the National Pancreas Foundation. He is also a member of the American College of Gastroenterology, American Gastroenterology Association, American Pancreas Association and the American Society of Gastrointestinal Endoscopy, for which he is the vice-chairman of the international committee.
Dr. Gelrud is board certified in gastroenterology. He performed his internship and residency at Tufts New England Medical Center in Boston. He also completed his fellowships in gastroenterology, pancreatology and interventional endoscopy at Harvard Medical School's Beth Israel Deaconess Medical Center and Brigham and Women's Hospital. He also obtained his Master's degree in Clinical Investigator Training at Harvard-MIT Division of Health Sciences and Technology.
For more information about Gastro Health, visit http://www.gastrohealth.com.
# # #
Press Contact:
Joanna Palmer
JPalmer(at)GastroHealth(dot)com
(786) 456- 8677
About Gastro Health
Gastro Health, founded in 2006, is South Florida's largest, private gastroenterology network comprised of over 90 physicians in 26 locations. Gastro Health provides patients access to some of the nation's premier gastroenterologists, pediatric gastroenterologists, colorectal surgeons, and allied health professionals. In addition to delivering gastrointestinal care, providers offer a wide range of additional services including: anesthesia, infusion, imaging, pathology, specialty pharmacy and in-office RX dispensing. Gastro Health is dedicated to its mission to provide outstanding medical care and an exceptional health care experience for patients.