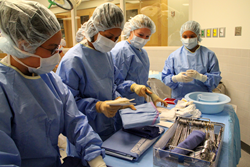 Another hot job is recruiter. Companies are looking for individuals with human resource backgrounds to help in searches for applicants.
Chicago, Illinois (PRWEB) July 19, 2017
A recent story on National Public Radio's Marketplace took a quick look at some of the ramifications of having a low unemployment economy. The US Bureau of Labor Statistics (BLS) June report indicated that with unemployment around 4.4%, the economy is considered to be near "full employment." NPR referenced Dr. Andrew Champerlain, chief economist at Glassdoor Economic Research, who explained that certain occupations are experiencing difficulties in filling jobs with qualified candidates, and as a result are raising salaries to attract applicants. https://www.marketplace.org/2017/07/07/economy/here-are-hot-jobs-this-low-unemployment-economy
Robert Morris University Illinois has a history of providing education programs that are based upon career-focused and experiential curricula, meeting the changing demands of an evolving economy.
Jobs that the BLS considers to be in demand right now include registered nurse, software engineer, data scientists – these are careers that are in need of workers. Another "hot job" is recruiter. Companies are looking for individuals with Business/Human Resource degrees and experience to help them in their searches for appropriate applicants.
Robert Morris University Illinois recently announced that its Bachelor of Science in Nursing program received an additional accreditation by the Commission on Collegiate Nursing Education, a national accreditation agency officially recognized by the U.S. Secretary of Education. The University's fall cohort for the BSN degree begins on September 25, 2017 and applications are being accepted through August 1. Other programs offered by RMU's College of Nursing and Health Studies include surgical technology and medical assisting.
A growing concentration in the RMU School of Business Administration is human resources, which provides networking and job experiences through membership in the Society for Human Resource Management. The RMU Institute of Technology and Media offers programs in networking, cloud computing, database and several other concentrations.
All RMU students must complete at least one internship in their major in order to graduate. This requirement gives students relevant experience within their fields of study. Additionally, they learn about real world decision-making, develop critical thinking and improve communication with knowledgeable employees, supervisors and clients.
As an accredited, not-for-profit, baccalaureate and graduate degree granting institution, RMU has a graduation rate far above the national average. The main campus is located in downtown Chicago at State and Congress, and branch campuses are located in suburban Chicago and central Illinois.
The fall quarter begins on September 25. The RMU website at http://www.robertmorris.edu provides additional information on all programs and campus locations. Applications for admission can be made online. To speak to a counselor, call 800-762-5960 and ask for admissions.