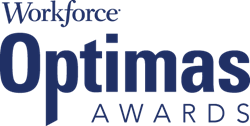 And, of course, the entrants had to place an emphasis on bottom-line business impact.
Chicago, IL (PRWEB) July 17, 2017
Workforce magazine has announced the finalists for its 2017 Optimas Awards, which recognize human resources and workforce management initiatives that can be directly tied to positive business outcomes.
Since 1991, the Optimas Awards have been a source of ideas, direction and inspiration for human resources professionals. The diverse enterprises named to this year's list demonstrate the ability to strategically tackle critical business issues and implement effective solutions that deliver measurable business results. They are:
Advanced Group
AT&T Inc.
Baylor College of Medicine
Brad's Deals LLC
Bristol-Myers Squibb
Ceridian
Choptank Transport Inc.
Department of Veterans Affairs, Office of Information & Technology, Chief Learning Office
GAI Consultants Inc.
General Assembly (New York)
Intel Corp.
MakeSpace (New York)
Mercer
Riverside Healthcare (Bourbonnais, Illinois)
Rochester Regional Health (Rochester, New York)
SDI Gas LLC
Siemens Healthineers
Suffolk Construction
University of Ottawa Faculty of Medicine
Webasto Roof Systems Americas
WVU Medicine/University Health Associates
"The judges looked for organizations whose initiatives had a strong HR component. Some were traditional, while others offered a creative, fresh look at people management challenges facing employers," said Rick Bell, Workforce's editorial director. "And, of course, the entrants had to place an emphasis on bottom-line business impact."
Winners of the 2017 Workforce Optimas Awards will be announced in late October and featured in a special section of the November/December issue of Workforce magazine.
For more information about the Optimas Awards, please visit workforce.com/awards/optimas.
###
About Workforce Magazine
Workforce is a multimedia publication that covers the intersection of people management and business strategy. Our content helps HR professionals approach their jobs from a more strategic, big-picture, business-results perspective.
About Human Capital Media
Human Capital Media (HCM) is the largest integrated media company serving the human capital, management and workforce-development industries. Through editorial content, events, research and awards programs, HCM is the leading voice for companies that care about their people.