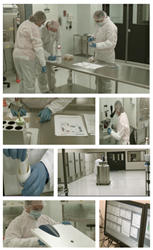 we chose Provia precisely because of their investment into quality...and specifically the investment they've made into their cGMP facility.
Littleton, MA (PRWEB) July 15, 2017
Provia Laboratories LLC ("Provia") completed a transaction with the Vault Biobank ("Vault") to take over the Vault's dental stem cell business' client agreements and distribution agreements. As part of the terms of the transaction, Provia will provide continuous storage services for existing clients, and provide its Store-A-Tooth services to new clients engaged through the Vault's former dental office distributors.
Adam Houtman, Chief Executive Officer of the Vault explains, "When selecting a firm to entrust our client's valuable samples, we chose Provia precisely because of their investment into quality, the strength of their team, and specifically the investment they've made into their cGMP facility. We feel confident that our client's samples will be in the best possible hands."
Provia's state-of-the-art stem cell laboratory operates under the FDA's current good manufacturing practice ("cGMP") guidelines for processing human cell and tissue products. Provia offers stem cell biobanking services for consumers, biostorage services for commercial customers, as well as a suite of cGMP processing and related services for clinical activities. Provia's focus is on small batch cell processing, manufacturing, and biobanking services such as those for autologous use (cells from you, for you) whereby a single patient's sample is manufactured for a single use.
Under the brand Store-A-Tooth™, Provia offers the only cGMP dental stem cell banking solution for consumers.
Processing client samples within a cGMP operation is critical to the future clinical use of those samples. Dental stem cells will ultimately be expanded in culture and potentially differentiated into other cell types prior to being delivered back to the patient for therapy. The FDA requires this manufacture of cells for clinical use to be done in a cGMP facility, which very likely will require source materials to have been processed in a cGMP facility as well.
As Joseph Laning PhD, Chief Technology Officer at Provia states, "Having a client's dental stem cell sample collected and processed by a non cGMP tissue bank creates significant risk that the sample will not be deemed a compliant cell source material by cell therapy manufacturers in the future." Laning continues, "from a regulatory compliance, liability, and quality point of view, Provia's adherence to cGMP guidelines provides peace of mind to our customers that their stored cells can be an integral part of future therapies."
"We are so pleased to accept the Vault's client's into the Provia Biobank and to continue to work with the dental office partners that the Vault has setup to inform patients of this important technology. Provia is committed to making dental stem cell banking available to families all over the world and doing so with the best technology, under the highest quality and regulatory scrutiny. As the market for dental stem cell banking continues to develop, we continue to focus on offering the best service and working with partners to do so," adds Howard Greenman, Chief Executive Officer, Provia.
As part of the transaction, all Vault's dental stem cell client's storage agreements will be transferred to Provia. Provia will honor existing contract terms, and will ultimately take physical custody of all samples. Existing Vault clients and dental distributors with questions are encouraged to contact Provia at 877 631 1318.
The financial terms of the transaction were not disclosed.
About Provia Laboratories, LLC
Provia is a stem cell processing, manufacturing, and bio-storage company with a leading position in dental stem cell storage and related services. Provia's primary service, Store-A-Tooth™, provides private storage of stem cells from children's teeth for future use in the child's personalized regenerative medicine. Provia has a proprietary set of protocols for cell processing, expansion, validation, and cryopreser¬vation. Provia's laboratory provides these services under FDA guidelines for current good manufacturing practice (cGMP) of human cell and tissue products. http://www.provialabs.com or http://www.store-a-tooth.com