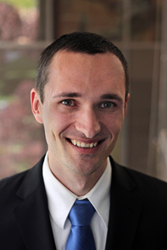 "I always strive to do my best work for our clients, and it is an honor to be recognized for my work and selected as a 2017 Northern California Rising Star."
San Jose, California (PRWEB) July 17, 2017
Serge Filatov, a business and corporate attorney at Strategy Law, LLP, has been chosen to the 2017 Northern California SuperLawyers Rising Stars list. According to SuperLawyers, only 2.5 % of attorneys in Northern California receive this prestigious honor.
Strategy Law Partner Jack Easterbrook had this to say, "Serge is an integral part of our firm. I have worked closely with him for several years and have seen his growth as an attorney. We are very impressed with his knowledge of business and loan transactions and his ability to effectively listen to and work with clients. The sky is the limit! I cannot think of a more deserving 'rising star!'"
Mr. Filatov's practice consists of working with businesses, lenders, and real estate investors. He assists business clients during their entire life cycle from formation to sale and helps form entities, document corporate agreements including shareholder agreements, operating agreements, partnership agreements, and purchase agreements, and drafts, reviews, and negotiates business contracts. He also assists lenders and borrowers in business loan transactions and other commercial law matters, including documenting commercial, technology, and real estate loans. Mr. Filatov also handles equity financings, mergers and acquisitions, technology transfers, and company-side employment matters.
According to Serge, "I always strive to do my best work for our clients, and it is an honor to be recognized for my work and selected as a 2017 Northern California Rising Star."
About Strategy Law, LLP
Strategy Law, LLP is a business and real estate law firm located in Downtown San Jose with clients throughout the Bay Area, the State of California and internationally. Their practice focuses on Business and Entity Formations, Business Transactions, Limited Liability Companies, Limited Partnerships, Mergers and Acquisitions, Problem Loans and Insolvency, Real Estate and Technology Transfer and E-Commerce.
For more information about Strategy Law, LLP, please go to http://www.strategylaw.com.
SuperLawyers, a Thomson Reuters business, is a rating service of outstanding lawyers from over 70 practice areas who have attained a high degree of peer recognition and professional achievement. The annual selections are made using a rigorous multi-phased process that includes a statewide survey of lawyers, independent research evaluation of candidates, and peer reviews by practice area. See more information about the competitive selection process.
Esther Brumleve
Strategy Law, LLP
(408) 478-4100
http://www.strategylaw.com