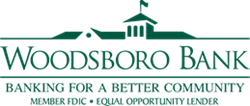 Frederick, Maryland (PRWEB) July 27, 2017
Christopher Clemons was recently named Vice President & Commercial Manager at Woodsboro Bank. Mr. Clemons is most recently from Damascus Community Bank headquartered in Montgomery County. He brings 14 years of banking experience including branch banking, credit analysis and commercial lending. He will be a manager in the Commercial group overseeing a team of Business Development Officers and lenders.
Mr. Clemons received his Bachelor of Science in Financial Economics from University of Maryland and graduated from the Robert H. Smith School of Business at the University of Maryland with a Master of Business Administration. Mr. Clemons also completed the American Bankers Association's Graduate School of Commercial Lending.
He is also an adjunct professor at Mount St. Mary's University teaching economics and finance courses in the MBA program. In addition, Chris teaches a course on health care economics in the MHA program. He has been with the Mount for five years.
Mr. Clemons is a life-long resident of Frederick County and looks forward to serving the community in which he grew up. He currently resides in New Market, Maryland. He is based at Woodsboro Bank's commercial lending headquarters at 50 Carroll Creek Way in Downtown Frederick and can be reached by calling 301-898-4787.