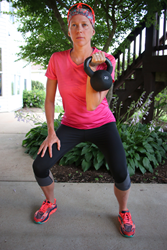 "Metal rings are uncomfortable, they get slippery with sweat, and I always worry about them falling off in the water during my races," said Haskins. "The Groove Ring lets you honor both your commitment to your spouse and your sport."
San Marcos, California (PRWEB) July 15, 2017
Groove Life is excited to announce they've partnered with Olympian triathlete Sarah Haskins to help spread the word about their high-performance Groove silicone rings.
From the rock face to the auto shop, Groove Ring is the world's first breathable silicone ring that's built for both work and play.
Unlike rigid metal bands that can get caught on rocks, branches, or in machinery, Groove Rings are designed to move with the finger and break away when danger strikes.
Groove Ring Specs:
Low profile prevents snags
Air ports allow fingers to breathe
Recessed grooves provide increased airflow
Liquid injected design gives a flawless finish
Comfort fit inner arch and eased edge lessen skin contact
Available in an array of fashion-forward colors and classic neutrals for men and women
Comes with a Lifetime Warranty
Athletes, carpenters, outdoorsmen, and more agree that the Groove Ring is an affordable way to show off their style and commitment without sacrificing safety.
Groove Rings can be purchased online at groovelife.co or at select retailers nationwide.
About Groove Life
Groove Life launched in 2016 with the release of their flagship product the Groove Ring. Founder Peter Goodwin wanted to wear a ring that showed his commitment to his family while meeting the demands of his work as an Alaskan guide and wilderness lodge owner. His creation not only offers durability and functionality but rugged good looks as well.
About Sarah Haskins
Sarah Haskins is a professional triathlete who has been competing for over 13 years. She competed in the triathlon at the 2008 Summer Olympics and won gold at the 2011 Pan American Games. Currently, she is continuing her training while raising her two children.
Leah J. Cybulski
Senior Public Relations Project Manager
ChicExecs Brand Strategy
820 Los Vallecitos Blvd Ste A-C
San Marcos, CA 92069
http://www.chicexecs.com
Leah(at)chicexecs(dot)com