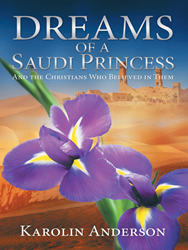 LOS ANGELES (PRWEB) July 17, 2017
As two American teachers live and work in Saudi Arabia for a prominent branch of the Saudi Royal Family, they serve as a bridge towards greater understanding in Karolin Anderson's book "Dreams of a Saudi Princess."
Anderson and her husband had the opportunity to teach children of the Saudi Royal Family to think critically and help bridge the gap between the United States and Islamic states under Sharia Law.
"An educational system that emphasizes critical thinking results in a citizenry that can analyze and evaluate issues that emerge in its culture," said Anderson. "An educational system that focuses on writ memorization of selective facts seriously curtails its citizenship from independent thinking."
Anderson hopes that communication with Middle Eastern diplomats and representatives can be more effective with this frame of mind. This was also the dream that the princess had for her children.
"Dreams of a Saudi Princess" conveys the differences among cultures to stem largely from the various approaches to education rather thank the differences among religion.
"Dreams of a Saudi Princess"
By Karolin Anderson
ISBN: 9781490865744 (hardcover); 9781490865720 (softcover); 9781490865737 (eBook)
Available on Amazon, Barnes & Noble, and WestBow Press
About the author
Karolin Anderson attended Fuller Theological Seminary in Pasadena, California, where she met her late husband. Following their graduation from seminary, both taught elementary school in South Central Los Angeles. Seeking adventure, Anderson and her husband accepted a position to teach a prince and princess in Saudi Arabia, which inspired her to write "Dreams of a Saudi Princess." To learn more, please visit http://www.dreamsofasaudiprincess.com.
###
General Inquiries:
LAVIDGE – Phoenix
Bryan Beach
480-998-2600 x 510
bbeach(at)lavidge(dot)com