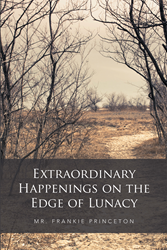 ANCHORAGE (PRWEB) July 17, 2017
Sharing his personal story, Frankie Princeton details the struggles of mental illness that plagued his mother throughout her life in the book, "Extraordinary Happenings on the Edge of Lunacy."
The author recalls key details about his life as far back as two years old. He also wrote notes and shorts stories about events in his life. After his mother passed away, Princeton decided to write about her life and the struggles that came with it.
"I began caring and figuring out strategic and tactical ways to help my mother at the age of eight years old and continued that approach until her death at the age of 70 and I was 51 years of age," said Princeton. "The few books I glanced at did not help me or my siblings because they were written by professional doctors, physicians, and psychologists who only observed mentally ill patients once they were admitted into a hospital, whereas I lived with it at home and learned the behaviors that would lead to breakdown episodes."
"Extraordinary Happenings on the Edge of Lunacy" is a book based on Princeton's own field work from four decades of hands-on experience and knowledge to help family members of the mentally ill.
"Extraordinary Happenings on the Edge of Lunacy"
By Frankie Princeton
ISBN: 9781543417043 (hardcover); 9781543417036 (softcover); 9781543417029 (eBook)
Available on Amazon, Barnes & Noble, and Xlibris
About the author
Frankie Princeton was born in Baton Rouge, Louisiana. He received his literary arts degree, having attended the University of Oklahoma Stephenson and Oklahoma South Central University. Princeton has 15 years of experience as a court clerk IV stenographer in the legal field. He was a multifaceted coach for 25 years, loving basketball the most. Princeton is now a retired Tuskegee ISD administrator and is a part-time defense advisor for a divergent Internet firm. To learn more about the author, visit http://www.frankieprinceton1.me.
###
General Inquiries:
LAVIDGE – Phoenix
Bryan Beach
480-998-2600 x 510
bbeach(at)lavidge.com