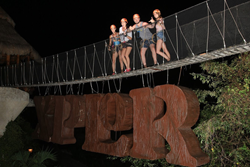 CANCÚN, QUINTANA ROO (PRWEB) July 14, 2017
Ashley Greene, known for her role as Alice Cullen in the film adaptations of Stephenie Meyer's "Twilight" novels, visited Xplor Park in celebration of her 30th birthday.
The actress and model enjoyed the unique subterranean world of Xplor in the company of her closest friends.
During her birthday celebration, Greene took on five great adventures. She flew on the park's ziplines -- the highest in Cancun and Riviera Maya. Greene also drove through the tropical jungle aboard amphibious vehicles, paddled on rafts along an underground river, swam in the most spectacular rivers of stalactites, and hiked through scenic caves and grottos.
Greene took to Instagram to share a picture of a friend and her on Xplor's zipline adventure. She gushed about her adventures at the park with the caption, "Just came across this gem. Went to @xplorpark for my bday and it was one of the coolest experiences EVER. Best zip line I've ever done and coolest caves I've ever swam in. Kinda wanna go back for the weekend."
About Xplor Fire
At Xplor Fuego, adventure evolves. At dusk, torches are the only guide through this underground park. A ring of fire ignites the only nighttime zip-line circuit at Cancun & Riviera Maya, flaming lava flows through the stalactite rivers, darkness covers the amphibious vehicle trails and underground rafts will take you to the center of the Earth.
Xplor is the most-visited zip line park in the world, thanks to the high level of safety of its facilities, which have been certified by the Association for Challenge Course Technology (ACCT).
For more information please contact:
Iliana Rodríguez
Sub Director of Communications and Public Relations
irodriguez(at)experienciasxcaret(dot)com(dot)mx