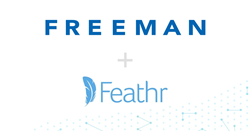 Dallas, TX and Gainesville, FL (PRWEB) July 17, 2017
Freeman, the world's leading provider of brand experiences, and Feathr, a global leader in data-driven event personalization, today announced Freeman has become a key investor in Feathr's most recent round of funding. Feathr's proprietary technology allows organizers and marketers to leverage their data by combining sources like registration, CRM, social followers and website analytics to launch effective multi-channel campaigns across email, landing pages, online advertising, social media and chatbots.
"The Freeman Digital Ventures group is pleased to be an investor in Feathr as we believe Feathr's offering can be beneficial to our clients allowing further personalization for events and brand experiences," said Richard Maranville, chief digital officer at Freeman. "Feathr's platform enhances our newly announced Digital Marketing Services, an offering that leverages the Freeman suite of digital services to provide customers with year-over-year event growth."
This partnership is the latest by Freeman in its pursuit to continue to provide best-in-class tech-driven solutions to benefit its clients. With access to the Feathr platform, Freeman customers can enrich their audience's experience and appeal to members' individual interests in unprecedented ways.
"Freeman has an unparalleled reputation for delivering brand experiences, and is now pushing the industry forward in the areas of digital, data and personalization," said Feathr Co-Founder and President Aidan Augustin about his company's new partner. "We are excited to work with Freeman to build on our shared missions to develop and provide unique, personal and business-aligned experiences to event attendees, exhibitors and sponsors through new technology created to benefit Freeman customers worldwide."
The partnership and investment brings Feathr's unique event personalization platform into the Freeman Digital Marketing Services offering as a complement to the Freeman web/app development, social media strategy, digital advertising, email marketing and data analytics services.
About Feathr:
Feathr is the Event Personalization Platform. Feathr empowers event organizers to easily create personalized event experiences through data, insights and communication. Feathr's proprietary platform provides a comprehensive individual-customer view of customer/prospect profiles and behavior, enabling users to directly act on the insights within the platform for powerful results. Headquartered in Gainesville, Florida, Feathr has powered more than 750 events worldwide to create personalized event experiences for leading organizers including UBM, Emerald Expositions, CES, NAB, and many more. For more information, visit feathr.co.
About Freeman:
Freeman is the world's leading brand experience company, helping clients design, plan and deliver immersive experiences for their most important audiences. Through comprehensive solutions including strategy, creative, logistics, digital solutions and event technology, Freeman helps increase engagement and drive business results. In 90 years as an industry leader, Freeman has developed a collaborative culture, intuitive knowledge, global perspective and personalized approach. Freeman is a family-owned company with 90+ locations worldwide and over 7,000 employees, 2,000 of whom are located outside the U.S. For more information, visit http://www.freeman.com.