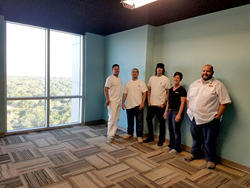 Marble Falls, TX (PRWEB) July 14, 2017
Fresh Coat Painters is pleased to be helping Baylor Scott & White Medical Center - Marble Falls create a new resting space for their clinical staff. Fresh Coat of Lakeway and Marble Falls donated $3,400 worth of sheet rock and painting work to help make the new space a reality.
The donation was made through Fresh Coat's national Paint it Forward® program and the painting work was completed between May 29 and June 2, 2017. The quiet room, which is almost complete, is designed to be a space where nurses and other clinical staff can retreat and rest after long shifts.
"The purpose for the room is to allow a quiet, restful area for staff to take a quick nap, if needed, before they drive home after working their hours. Some of our nurses and others work overnight and long shifts. The room will also provide a respite space for staff to take a moment away from the busyness and stress of an emotional day caring for patients," said Betsy Patterson, CNO for the Hill Country Region, Baylor Scott & White Health. "This is an amazing and meaningful donation, and it is greatly appreciated."
Patterson said the creation of the resting space was already in the works, but when one of their own was lost in an automobile accident, it was decided it was time to move forward on the project.
"Amanda was one of our bright, promising young nurses who was working night shift in her first nursing job. She was tragically killed in an auto accident after falling asleep on her way home from working overnight. Prior to this tragedy, we had considered creating a quiet area for staff to be able to have a quiet place to have a moment of solitude. After the loss of Amanda, we wanted to create this space in her memory," Patterson said.
Fresh Coat of Lakeway and Marble Falls, locally owned and operated by Sarah Ross, got involved in the project when Baylor Scott & White asked her for a quote on the work. Ross had done work for the hospital before and had heard about Amanda's tragic death.
"We've been a contractor for the hospital for a few years and, when we heard about what they wanted to do and why, we thought it would make a great Paint it Forward project. When Baylor Scott & White opened in Marble Falls, they really met a huge need for care in our region and we're thrilled to have them here," Ross said. "Baylor Scott & White is a non-profit and they do a lot of great work in our community, so I was happy to make this donation. It feels great to do something for people who do so much for people in our area."
Fresh Coat offers residential and commercial painting services including interior and exterior painting, wood staining and finishing, and other services for nearly every protective coating application. Their professional painters use quality, environmentally safe materials and the company offers a 24/7 customer call center, online scheduling, in-home color design consultations and detailed quotes. Fresh Coat of Lakeway and Marble Falls serves Lakeway, Marble Falls, Dripping Springs, West Lake Hills, Spicewood, Bee Cave and the surrounding areas.
Paint It Forward was inspired by Eric Ascencio, previous co-owner of a Fresh Coat Painters franchise in Houston, Texas. Eric had made it his mission to be an inspiration for other cancer patients and to give back to those in his community, leaving behind a legacy when he lost his battle with the disease.
For more information about Fresh Coat Painters of Lakeway and Marble Falls, call 512-309-0733, email SRoss(at)FreshCoatPainters(dot)com or visit http://www.FreshCoatLakeway.com.
About Fresh Coat Painters
With more than 120 locations nationwide, Fresh Coat Painters brings quality customer service, top-notch painting products, professionalism and affordable pricing to the residential and commercial painting industry. They use quality, environmentally safe materials and offer a 24/7 customer service center, online scheduling, in-home color design consultations, and detailed quotes. All painters are bonded and insured employees. For more information, visit http://www.FreshCoatPainters.com, call 1-855-FRESH-COAT or visit us on Facebook.
The company was founded in 2004 as part of Strategic Franchising Systems. In the last year, Fresh Coat has been included in the Bond's Top 100 and named to Entrepreneur Magazine's Franchise 500 list. Fresh Coat is also part of the International Franchise Association, the Small Business Association's Franchise Registry, VetFran and Minority Fran.