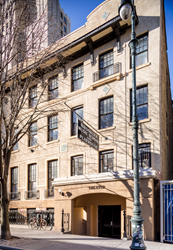 "I am proud to support the advancement of arts education in Fort Greene and the unsung educators who continue to share their passion for music and dance with the next generation of musicians and performers," said Laurie A. Cumbo
Brooklyn, NY (PRWEB) July 20, 2017
Brooklyn Music School (BMS) received over $5.7 million in capital funding in the New York City Fiscal 2018 budget for facilities expansion and the purchase of key technology to fulfill its vision of making high quality music education and performance opportunities available to everyone in our community.
The allocations included $5.66 million from the Mayor and the City Council to expand Brooklyn Music School's historic facility at 126 St Felix Street in the heart of the Brooklyn Cultural District. BMS also received $50,000 from the Brooklyn Borough President for new audio-visual equipment for the school's historic theater. All City funding will be managed by the Department of Cultural Affairs. This is the first time in recent history that BMS has received capital support from the city.
"We are humbled by the outpouring of support from the community and elected officials to expand our century-old facility to meet the exploding demand for education in music, dance, and performing arts education," said Crocker Coulson, Chair of the BMS Board of Trustees. "Over the past four years, BMS has expanded our served audiences from 300 students to over 4,000 students and our current facility is bursting at the seams. In addition, the planned new facility will include performance and rehearsal spaces to meet the needs of a range of smaller cultural non-profits in the community so as to create an ecosystem of locally based arts education and performance organizations."
"We would like to thank all of those parents, neighbors, and non-profit partners who supported our application, and we look forward to working with community input to provide badly needed access to music and culture to youth and adult students in the community," said Piruz Partow, BMS Executive Director.
BMS offers a growing range of music and performing arts with a focus on accessibility and diversity of both the audiences we serve and the musical traditions represented. BMS offerings include: Our affordable after-school program, Arts Reaching Youth; the BMS Outreach program that brings quality music and dance instruction to public and charter schools with limited resources; Our pre-professional opera training program for emerging singers, Brooklyn Opera Works; African drumming and dance classes; evening adult group classes in violin, guitar, cello, and ukulele; and a popular Summer Institute for music and performance. BMS offers a range of free classes and ensembles and provides financial aid to a significant portion of our families. We make our historic BMS Playhouse available to a range of non-profit partners and provide a venue for a range of music, dance, and dramatic productions.
"For more than a century, the Brooklyn Music School has nurtured thousands of youths and adults who now share their incredible talent with millions worldwide. This artistic and educational institution has an immeasurable legacy — providing students of all backgrounds and abilities with an opportunity to explore their creativity — that is truly remarkable. I am proud to support the advancement of arts education in Fort Greene and the unsung educators who continue to share their passion for music and dance with the next generation of musicians and performers," said Laurie A. Cumbo, Council Member for the 35th District.
"The Brooklyn Music School provides a true public service to our city through its programs to train and empower thousands of musicians from all walks of life," said New York City Council Majority Leader Jimmy Van Bramer. "Through participation in the arts, children learn the value of dedication and hard work, discover new ways of thinking, and come to fully appreciate the freedom and joy of expressing emotions and ideas. As the Chair of the Committee on Cultural Affairs and Libraries, I'm proud to support the good work of the Brooklyn Music School through capital funding to expand their facility. Once complete, this expansion will enable the school to provide music education to more students, helping make art and culture more accessible to all."
"Music heals the mind, body and soul," said Brooklyn Borough President Eric L. Adams. "I am proud to allocate capital funds for new audio-visual equipment at the Brooklyn Music School, an institution that has enriched the lives of many children in Fort Greene and beyond through the years. The science shows the substantial benefits that music can have on a child, and that is something every young Brooklynite should be exposed to early and often."
"For more than a century, Brooklyn Music School has engaged students, teachers, and audiences through its singular commitment to the power of music to move people and unite communities," said NYC Cultural Affairs Commissioner Tom Finkelpearl. "The neighborhood around it may have changed since its earliest days, but Brooklyn Music School remains an extraordinary community anchor, and we're proud to support the group's efforts to grow and reach even more students for the next century and beyond."
The Brooklyn Music School is located at 126 St Felix Street in the heart of the Ft. Greene cultural district, only one block from the Barclays-Atlantic Ave subway station, and convenient to many other world-class cultural venues.
"Some people believe that the arts are optional. They are not. The Brooklyn Music School has shown the arts have a crucial impact in Brooklyn, and in New York City, by providing an important catalyst for discovery, learning and achievement, said Council Member Robert E. Cornegy, Jr., Council Member for the 36th District and the first Council Member with a staff person, Joseph Grant Jr., devoted solely to the arts. "The moral values we treasure are transmitted through the arts. I look forward to the Brooklyn Music School continuing to provide programming to future generations and congratulate them on this milestone in their organization's history."
For more information visit our website at http://www.brooklynmusicschool.org or contact Piruz Partow at: (718) 638-5660 or ppartow(at)brooklynmusicschool(dot)org