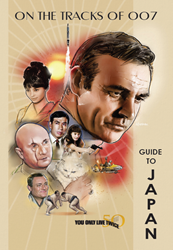 A very impressive read, I thoroughly enjoyed it.
(PRWEB) July 16, 2017
In 1966, Eon Productions decided to film the fifth James Bond adventure in Japan: You Only Live Twice, based on the novel by Ian Fleming which was published two years before. The film that resulted from these efforts came out in 1967 and was an unsurpassed visual spectacle. The exciting Tokyo neon signs, the beautiful countryside temples and the rural villages and volcanoes gave the film a very exotic background. Today, Japan is still a very attractive travel destination and this book will encourage you to follow the tracks of her majesty's best known secret agent.
Written by Martijn Mulder (author of On the Tracks of 007), with an introduction by Oscar® winning sound editor Norman Wanstall, this guide contains 170 pages filled with info, behind the scenes photos, film location photos and maps. It is the ultimate field guide dedicated to the 50th anniversary of You Only Live Twice.
Travel like 007 from Tokyo to Kagoshima, revisiting all the filming locations used in You Only Live Twice. From Osato Chemicals HQ to Tiger Tanaka's countryside house, from Blofeld's volcano base to the remote shrine where Bond married Kissy. It's an action packed adventure for movie buffs, Bond fans and film location hunters. Includes a bonus trip to Hashima (Gunkanjima or Battleship Island) in Nagasaki Bay, which served as the model for Silva's hideout in Skyfall (2012).
ON THE TRACKS OF OO7: GUIDE to JAPAN (ISBN: 9789081329408)
Written by Martijn Mulder
Published by DMD DIGITAL
Pages: 170
Size: A5 (148 x 210mm / 5.8 x 8.3 inch)
Cover: Full colour – illustration by Jeffrey Marshall
Interior: Full colour
Illustrations: 250
Publication date: 07 / 07 / 2017
Price: EUR 21.95 / USD 24.95 / GBP 19.95
The book is available at Onthetracksof007.com and all the major online bookstores. Distributed by INGRAM, the book is also available for ordering at any international bookstore around the globe.
Book links:
https://www.onthetracksof007.com/you-only-live-twice-guide-to-japan
https://www.amazon.com/Only-Twice-Anniversary-Guide-Japan/dp/9081329405/
---------------------------------------
About the author:
Martijn Mulder ('71) is a freelance writer who lives in the Netherlands. His website about the 007 filming locations is one of the longest running James Bond related sites, being online since 1995. Together with Dirk Kloosterboer, Mulder wrote the travel guide On the tracks of 007, which was published in 2008. He frequently organises trips and guided tours to the filming locations around the world.
About On the Tracks of 007:
Originally a long list of filming locations on a one-page website called The James Bond Locations Page in 1995, On the tracks of 007 steadily attracted a growing audience and even started a hobby now globally known as 'location hunting'. The website also published its unique location info on CDROMs (from 2001 to 2006) and in 2008 in print. "On the tracks of 007, a field guide to the exotic James Bond filming locations around the world" (ISBN 9789081329415) is still a firm favorite among everyone who likes to travel and live the James Bond lifestyle.
-----------------------------------------
For more info, or to obtain sample pages & a selection of images for inclusion in an article or review, contact the author at info(at)onthetracksof007.com