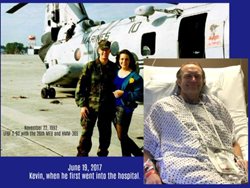 Baltimore, MD (PRWEB) July 14, 2017
On June 19, 2017, Kevin went to his regularly scheduled doctor's appointment, for his IV treatment. He shared with is doctor that he had been experiencing small amounts of blood in the phlegm associated with his cough. To further complicate matters, Kevin learned that part of his tumor has infiltrated a pulmonary vein, which has resulted in blood leaking into his lungs. He has been in in-patient care since that date. His son Will, a college student, has been there with him the entire time. That fact alone, speaks to Kevin's character as a Father!
Throughout the last year, Kevin and his family have faced this continuing adversity with the courage, strength and resolve that many of us might not have been able to hold onto in their situation. In fact, Kevin has fought this battle without complaining, self-pity, posting to social media, asking for help, or even publicly sharing his diagnosis. It wasn't until earlier this week, when Kevin's wife hi-jacked his Facebook account, that Kevin's Marine Corps family learned of his illness.
Unfortunately, Kevin's fight with this disease has taken a toll not only on his health, but his family's finances as well. Kevin served his country honorably, worked to put himself through college and transitioned into a career in the civilian sector. However, as is the case with many cancer patients, Kevin's time away from work coupled with out-of-pocket expenses not covered by insurance, has left his family facing the nightmare scenario of losing their home. Kevin's wife, Robin, is working determinedly with their mortgage company, as well as other creditors, to secure her family's home and future.
The Crowdfunding Campaign for Kevin can be found here: https://www.youcaring.com/kevinpalmer-871653
Several of Kevin's friends and Marine Corps family have already stepped up to donate. They hope others will join them in their cause.