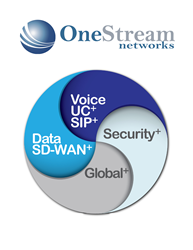 "Customers are struggling with managing the ever-growing threat of cyber-crime and with safeguarding their data, applications and systems while still following compliance guidelines for their industry," said Brian Skidmore, CMO for OneStream Networks
Rochester, NY (PRWEB) July 17, 2017
OneStream Networks, a leading global managed communications service provider of enterprise-grade cloud-based SIP trunking, SD-WAN, unified communications, contact center and security services, announce that they have formed a strategic partnership with Dunbar Security Solutions, a 360-degree managed security service for cyber and physical threats that is part of Dunbar, America's largest independent, full-service security organization for nearly a century. The new partnership makes Dunbar Security Solutions available to OneStream's customers, further enhancing its comprehensive portfolio of global voice, data, networking and security offerings.
"Customers are struggling with managing the ever-growing threat of cyber-crime and with safeguarding their data, applications and systems while still following compliance guidelines for their industry," said Brian Skidmore, Chief Marketing Officer for OneStream Networks. "OneStream and Dunbar are offering a fully managed global security service that eases the resource, financial and compliance burden many companies face today. We now go beyond standard firewalling and threat management to offer our customers a world-class, security service and a global Security Operations Center for 24/7 active management through a trusted, experienced leader like Dunbar."
"Dunbar Security Solutions' partnership with OneStream will help it provide its customers with true active response," said Darren McCue, Dunbar Security Solutions' president. "Now enterprises can effectively analyze all their online activity while searching for suspicious behavior and cyber-attacks, maximizing data coverage while minimizing the time and energy needed to monitor networks, investigate alerts and remediate incidents."
For more information, visit OneStream Networks at http://www.onestreamnetworks.com.
About OneStream Networks
OneStream Networks is purpose-built for enterprise-grade cloud-based SIP trunking, unified communications, contact center services, data networking and security services. With availability in 100+ countries, global strategic peering networks, geo-redundant POPs and multi-provider SD-WAN and MPLS transport options, OneStream delivers unparalleled scope and reach for advanced cloud-based voice, UC, data and security. OneStream has become the standard for enterprise customers, VARs, and agents looking to create cost-savings, consolidation, vendor reduction and simplified management for single site and multi-site, multi-national applications. For more information, visit http://www.onestreamnetworks.com.
About Dunbar
Dunbar is America's largest independent, full-service security organization headquartered in Hunt Valley, Maryland with deep expertise in every corner of the security industry. Dunbar delivers peace of mind to customers across two strategic business divisions: Dunbar Armored, which since 1923 has provided organizations with armored services and cash management for their evolving business needs, and Dunbar Security Solutions, fully integrated Cybersecurity, Security Systems and Protective Services solutions delivering enterprise risk management and 360° protection against a full range of physical and digital security threats.
Dunbar's powerful security offerings are backed by nearly a century of reliable, high-quality service and made possible by a firm commitment to our customers, our people and continuous investment in the most innovative technologies in the marketplace. For more information, please visit http://www.dunbararmored.com.
For more information contact:
Brian D. Skidmore
OneStream Networks
585-563-1852
info(at)onestreamnetworks.com