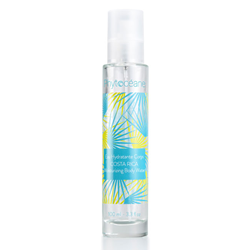 ... awaken the skin and give instant freshness.
SAINT- MALO, FRANCE (PRWEB) July 17, 2017
Inspired by the beauty and adventure of Costa Rica, Phytocéane introduces COSTA RICA Moisturizing Body Water. This lightweight body tonic has an exotic scent thanks to an elegant blend of fruits including peach, apple, melon and pineapple blended with jasmine, cedar and musk. Formulated with Phytocéane's emblematic
ingredient, jania, a red vegetal coral renowned for its incredible ability to bind trace elements and minerals found in sea water and hydrate the skin and an energizing extract from guava, COSTA RICA Moisturizing Body Water is a moisturizing solution for all seasons. Packaged in a beautiful glass bottle and designed with a very practical spray system, this moisturizing water can be sprayed over the entire body, ideally after a shower to awaken the skin and give instant freshness.
Directions for use: spray on the body for a splash of hydration and exotic notes. Avoid contact with eyes: in case of contact, rinse with water.
COSTA RICA Moisturizing Body Water.......................100 ml, suggested retail price $48.00
Key ingredients:
Jania: ulta-moisturizing, remineralizing.
Goyave: energizing extract of guava tropical fruit.
Impressive results*
+29% hydration increase after 1h of application
+22% hydration increase after 3h of application
+17% hydration increase after 6h of application
*Product tested on 10 volunteers with normal to dry skin. The hydration test has been measured 1 hour, 2 hours and 6 hours after application. The above figures are an average of all 10 results.
Phytocéane at a glance:
When exploring the secrets of Phytocéane you will discover a natural, marine brand that sets itself apart as a true treasure in the spa industry. Nestled in the heart of the Emerald Coast in France, Phytocéane embodies the region's timeless tradition of travel, escape and discovery. This professional, naturally-based facial and body care line utilizes resources and ingredients found in the most pristine, beautiful seas around the world. We are one of the only spa brands with our own laboratory, allowing us to research and cultivate our own ingredients, develop unique cosmetic formulas, manufacture skin care products and create cutting-edge professional treatments to deliver remarkable results.