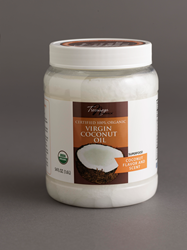 New Milford, CT (PRWEB) July 17, 2017
Tresomega Nutrition announced today that their Organic Virgin Coconut Oil was the recipient of the Sofi Gold Award in the oil-nut category by the Specialty Food Association. The Gold Sofi is the top honor in the $127 billion dollar specialty food industry and was selected from 3,000 entries across 39 categories. The blind taste testing in conducted by a panel of food professionals that include culinary enthusiast, chefs, retail buyers and leading food editors. The judging is based upon the product taste, flavor, texture and aroma as well as the quality of ingredients.
"We are extremely honored that our organic coconut oil was recognized by the Specialty Food Association with a Gold Sofi Award," said CEO, Joanne Fellin of Tresomega Nutrition. "It's a great honor and reinforces our mission to provide consumers with the best organic products on the market today."
Tresomega Nutrition's Organic Virgin Coconut Oil is made from 100% cold pressed young organic coconuts and offers consumers a wide range of sought-after health benefits that include Non-GMO, Cholesterol-Free, Trans Fat-Free, Hexane-Free and Non-Hydrogenated.
A healthy substitute to butter, Tresomega Nutrition's Organic Virgin Coconut Oil is excellent to bake and cook with delivering a fresh pure taste to your favorite foods with an exotic scent and flavor of the tropics. Very suitable for Vegans.
Tresomega Nutrition's Organic Virgin Coconut Oil are packaged in environmentally friendly PET containers and are available in 15 oz., 29 oz., 54 oz. sizes and 128 oz. drums for foodservice operators.
Tresomega Nutrition also offers consumers Organic Refined Coconut Oil and a full line of American Masters of Taste™ award winning Gluten-Free Organic Quinoa Pasta. The pasta's are a nutrient packed superfood made with a unique blend of organic Royal Bolivian Quinoa, organic Amaranth, a grain rich in vitamins and minerals, and organic white rice. Quinoa and Amaranth are gluten-free ancient grains that have been providing health benefits since the time of Egyptian Pharaohs. The pasta's are available in Penne, Elbow, Fusilli, Orzo, Linguini and Spaghetti cuts.
About Us
Tresomega® Nutrition, located in New Milford, Connecticut places great importance on giving consumers the ability to attain an organic lifestyle through the use of pure organic foods while supporting sustainable organic farming methods for future generations to come. Tresomega Nutrition's Sofi™ Award Winning Organic Virgin Coconut Oil and Award Winning, American Masters of Taste™ Organic, Gluten-Free Quinoa pasta line provide consumers and their families with a healthier choice in the way they eat. Our farmers provide the purest of products in exchange for a fair market price. By purchasing Tresomega Nutrition products, you are supporting a viable economic livelihood for our farmers and promoting a sustainable agricultural environment. Tresomega Nutrition's products are positioned for sustainable retail markets nationwide such as Supermarkets, Independent Supermarkets, Gourmet Food Stores and Club Stores that seek to provide their consumers with great tasting award winning products. Tresomega Nutrition's products are also available for foodservice operators. For more information regarding Tresomega Nutrition, contact Lisa Pignatello at info(at)tresomega(dot)com.