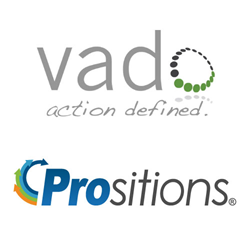 We are pleased to partner with Prositions to provide unique learning content that is 'changing the face of learning.'
Des Moines, IA (PRWEB) July 17, 2017
Prositions, Inc., a leading training content producer and distributor, proudly announces a new learning content partner, Vado. The Vado eLearning courses and their development methodology fit perfectly with the micro-learning and on-the-job mentality of Prositions' own training productions. The addition of these micro-learning courses to their portfolio will give customers an even more robust offering of quality training content.
"We are pleased to partner with Prositions to provide unique learning content that is 'changing the face of learning,' comments Cindy Pascale, Vado's CEO. "Research shows that 70% of development happens on the job, and Vado's off-the-shelf eLearning courseware helps the learner apply learning on-the-job through step-by-step instructions. Our learning content is delivered in small, bite-sized chunks to maximize learning retention."
Vado offers 350+ management development and employee soft skill development courses. Vado courses are for individual contributors, frontline leaders, and managers. The courses can be purchased in course bundles or in full learning tracks such as the award-winning Leadership Development Learning Track, Management Development, or Project Management. Vado's content will be available through Prositions' LMS and SCORM version of DashTrain.
"Short, targeted content is very popular with our clients and our own employees. With Vado's content, learners are not only gaining new knowledge, but identifying clear action to apply what they learned on the job," commented Frank Russell, CEO of Prositions. Prositions continues to see growth in the usage and popularity of our micro-learning platform, DashTrain, as well as our learning management system. Clients report that employees find Vado's videos very engaging due to their shorter duration and the targeted learning they provide."
Interested organizations can request a demo of the Vado eLearning courses online or via phone (515) 864-7200. Additional information about the program and a complete overview of the course can also be requested.
About Prositions, Inc.
Prositions, Inc. is a leading provider of learning content and performance support libraries and offers a complete range of consulting, software, and service solutions. DashTrain, their new mobile-first application, contains thousands of micro-video and audio learning bites that enable organizations to give their employees instant access to the world's leading "how-to" business libraries and best-selling authors, anywhere and at anytime. For more information about Prositions, visit http://www.prositions.com