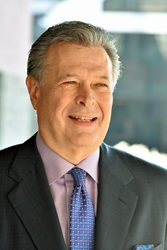 Each day at Eva's I see hope for the future, and I am inspired by employees, volunteers and donors who lead with a servant heart, showing empathy and compassion to each and every person who comes through our doors.
Paterson, NJ (PRWEB) July 14, 2017
The Board of Trustees of Eva's Village announced the appointment of Mark Schmit as the organization's new Chief Executive Officer on Friday, July 14. "After a comprehensive search process, the Board is pleased to have identified the best individual to guide our organization, whose mission is to serve the most vulnerable members of our community in Paterson and Passaic County," said incoming Board Chairwoman, Dr. Eileen Clifford, a member of the Sisters of Charity of St. Elizabeth. "Mark brings with him a broad set of skills and a multitude of gifts that made him the best candidate: a background in business; ability to work with different groups of people; his love for the mission of Eva's Village and a deep understanding of its operations and history. He is the complete package," she explained.
A member of the search committee, Dr. Clifford, S.C., is the first woman to chair Eva's Board of Trustees. Like Mr. Schmit, she and many board members share a deep commitment to the mission of Eva's Village. Dr. Clifford's connection to Eva's dates to its inception in 1982, when she organized a weekly medical clinic for kitchen guests staffed by volunteer doctors from St. Joseph's Regional Medical Center in Paterson. The program was the forerunner of the free Medical and Dental Clinics that still serve the community and Eva's residential clients today. She is currently the Medical Director of Care Management at the hospital and has been a board member at Eva's Village since 2009, serving as Secretary and Vice President prior to becoming Chairwoman. "The Board agrees that Mr. Schmit is in the best position to lead Eva's Village and move the organization forward," she commented.
"Mark is the right person for the job," agreed John Crimi, who was also a member of the search committee. After a lengthy search, it became clear that his intimate working knowledge of the day-to-day operations of Eva's Village combined with his integrity, devotion to Eva's mission, and heart-felt compassion for the individuals we serve made him the best candidate," he added. President of County Concrete Corp., in Kenvil, NJ, Mr. Crimi has served on Eva's board for many years.
Over a span of nearly two decades, Mr. Schmit has played a key role in advancing the mission of Eva's Village and supporting its growth. He has served most recently as Interim Executive Director, previously as Board President, and from 1998-2007 as Treasurer and board member. He has participated as a member of the advisory board for The Culinary School at Eva's Village, and on Eva's Cookies and Brownies Board. His involvement at Eva's Village dates back to the early days when Msgr. Vincent E. Puma led the organization. Since its foundation, the nonprofit has grown from a simple soup kitchen to a comprehensive organization that today offers 20 programs providing a recovery community and supportive services to men, women, and mothers with children in need.
Throughout his many years of service, frequent encounters with people "who face obstacles greater than I can imagine each day" enhanced Mr. Schmit's understanding of Eva's Village mission: To feed the hungry, shelter the homeless, treat the addicted and provide medical and dental care to the poor, with respect for the human dignity of each individual. "Each encounter at Eva's left me with an indelible heart imprint, and really brought home the words I so often heard our receptionist, Miss Jo, say: 'This is Eva's Village, Where Hope Begins,'" Mr. Schmit said.
"I look forward to working alongside our board, staff, and volunteers to lead Eva's Village as we strive to meet the growing and changing needs of those who come to us for help," Mr. Schmit continued. "There will certainly be challenges. We are facing an epidemic of opioid addiction like we have never seen before, and our community continues to struggle with poverty, hunger, and homelessness. But each day at Eva's I see hope for the future, and I am inspired by employees, volunteers and donors who lead with a servant heart, showing empathy and compassion to each and every person who comes through our doors."
During his career, Mr. Schmit worked as a professional business administrator and was owner of and partner in several companies. His deep love for the mission of Eva's Village convinced him to defer retirement and accept the CEO role. "Stepping up to lead this ever-growing organization has become my purpose and my calling," he explained. He and his wife Denise raised their three children in Wyckoff, NJ, and are active members of St. Elizabeth Church there. They are now proud grandparents to nine grandchildren.
More about Eva's Village
Founded by Msgr. Vincent E. Puma in 1982, Eva's Kitchen began by serving 30 meals a day to feed the hungry in Paterson. In response to the related issues of poverty, addiction, mental illness and homelessness, programs and services grew out of the original soup kitchen to address the root causes as well as the effects of homelessness and poverty. Today, Eva's Village, a non-profit, comprehensive, social service organization, offers 20 programs that address needs in the community for food and shelter, recovery and medical services, and education and job training, with the goal to help those in need move toward stability and independence.